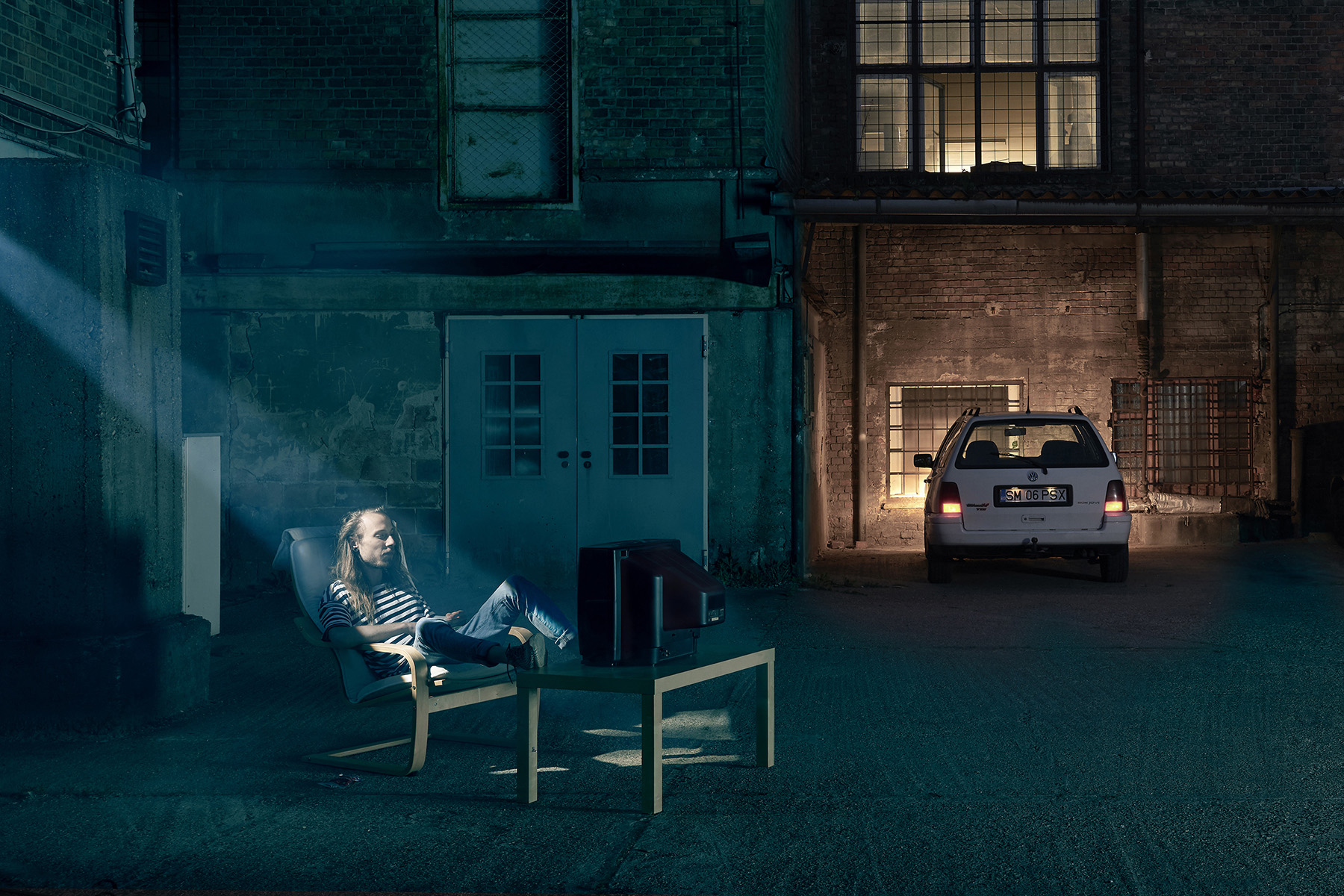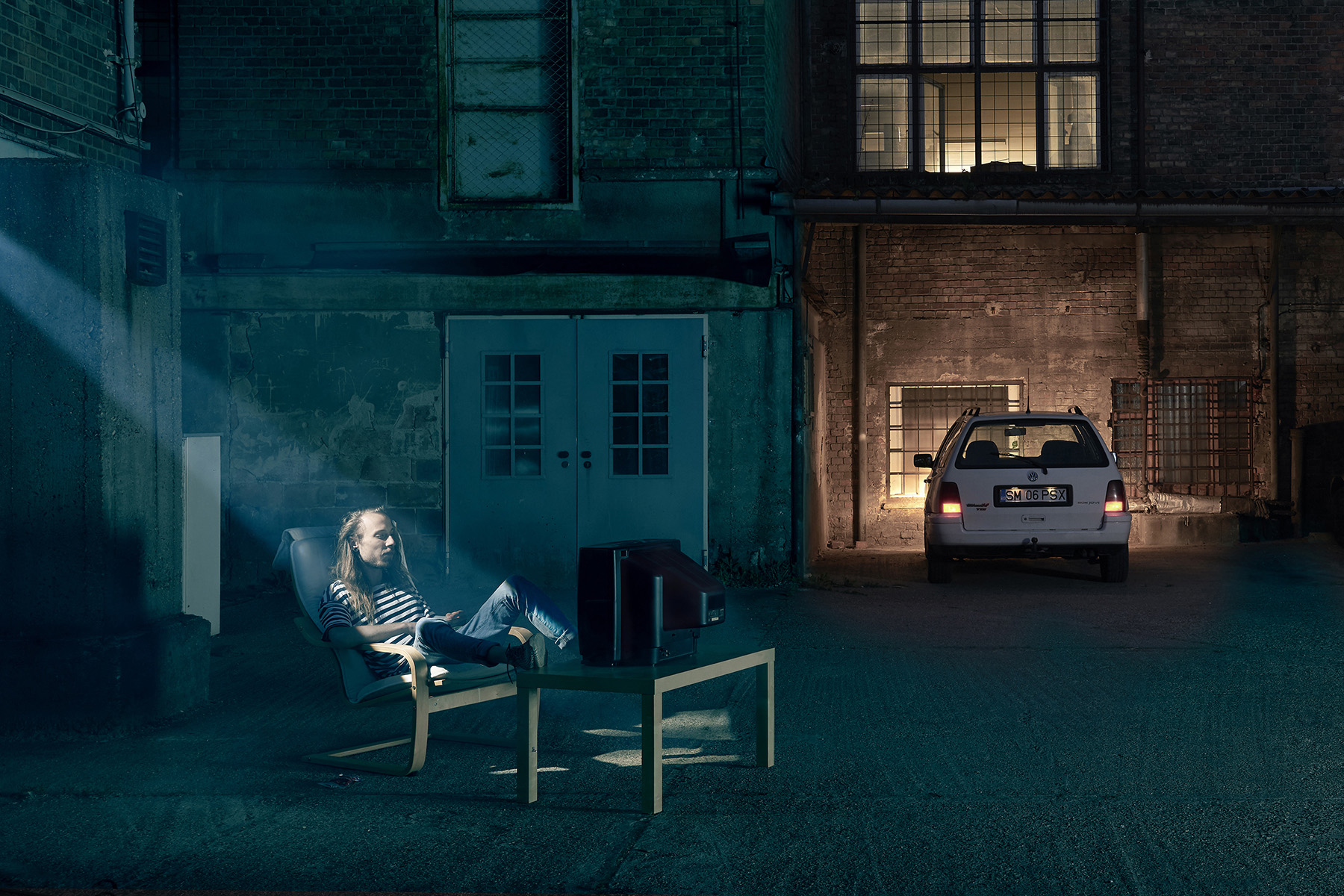 METU, Photography, BA Graduation Project
Privacy today faces threats from a growing surveillance apparatus that is often justified in the name of national security. Due to the fast way technology improves, surveillance and storing data has become more detailed and easier than ever before. Theoretically, CCTV systems could work great, but there is no real evidence of it's practical effectiveness and offers a great opportunity for surveillance abuse, which is a serious issue. We are living in a world full of "invisible zones". Let's think of these zones as a different dimension: when you step into the field of view of a CCTV camera, your privacy is gone. You become instantly digitalized by face recognition softwares, your identity will be known, your movements will be recorded and stored and the operator could abuse the data without you ever knowing it.

My work is based on the relationship between observer and observed. The invisibility of the field of view of a CCTV makes the system functional and acceptable. The subject under surveillance is not aware whether he/she is inside and observed zone or outside of it. In my work, I am trying to make the invisible zones visible.
The fictive, private scenes staged in public spaces are being intersected by a pyramid shaped light which resembles the field of view of a CCTV, used as a symbol for surveillance. Surveillance is becoming the part of our lives in a variety of forms. We are trying to use every advantage the digital world has to offer, yet we are becoming more and more vulnerable. Anyone could become the protagonist of these invisible surveillance zones in her/his most intimate, most vulnerable moment without even knowing about it.
Supervisor: Péter Pettendi Szabó
Consultant: Luca Gőbölyös
This project is brought to you by NOTESS - the new design notebook by Hellodesign.
Sign up for updates and special offers.
___
Ezt a projektet a Hellodesign új design notesze, a NOTESS hozta el számodra.
Iratkozz fel a friss információkért és a speciális ajánlatokért.
METU, Fotográfia szak, BA diploma projekt
A magánélet egyre inkább veszélyben van a megfigyelő apparátusok fejlődésének köszönhetően. Az utóbbi időben a technika rohamos fejlődése miatt az állampolgárok megfigyelése és az adattárolás egyszerűbb és részletesebb lett, új szintre lépett. Ez a rendszer elméletben jól működik, biztonságérzetet nyújthat, de a gyakorlati hatékonysága alacsony és nagyon könnyű vele visszaélni. Egy "láthatatlan" zónákkal teletűzdelt világban élünk. Tekinthetünk ezekre egy másik dimenzióként is, amelyekbe belépvén a személy digitalizálódik, megszűnik a magánélet és mindenki identitása ismerté válik, minden mozdulat tárolható és visszakereshető lesz.

Diplomamunkámban a megfigyelő és a megfigyelt viszonyával foglalkozok. A térfigyelő kamerák látómezejének láthatatlansága teszi a rendszert elfogadhatóvá. A megfigyelt nincs tudatában annak, hogy mikor lép egy megfigyelt mezőbe és mikor van ezen kívül.
Sorozatomban a láthatatlan teret teszem láthatóvá. A fiktív, berendezett jelenetekben a térfigyelő kamera látómezejére utaló "fénygúla" reprezentálja a megfigyelés fogalmát, mely különböző formában egyre inkább részese az életünknek. A mai digitális hálózatokra épülő világban, amelynek minden előnyét szeretnénk saját magunk javára használni, egyre inkább a kiszolgáltatottság felé sodródunk. Tudatunkon kívül akár a legintimebb helyzetekben is a "láthatatlan" zónák főszereplőivé válhatunk.
Témavezető: Pettendi Szabó Péter
Konzulens: Gőbölyös Luca