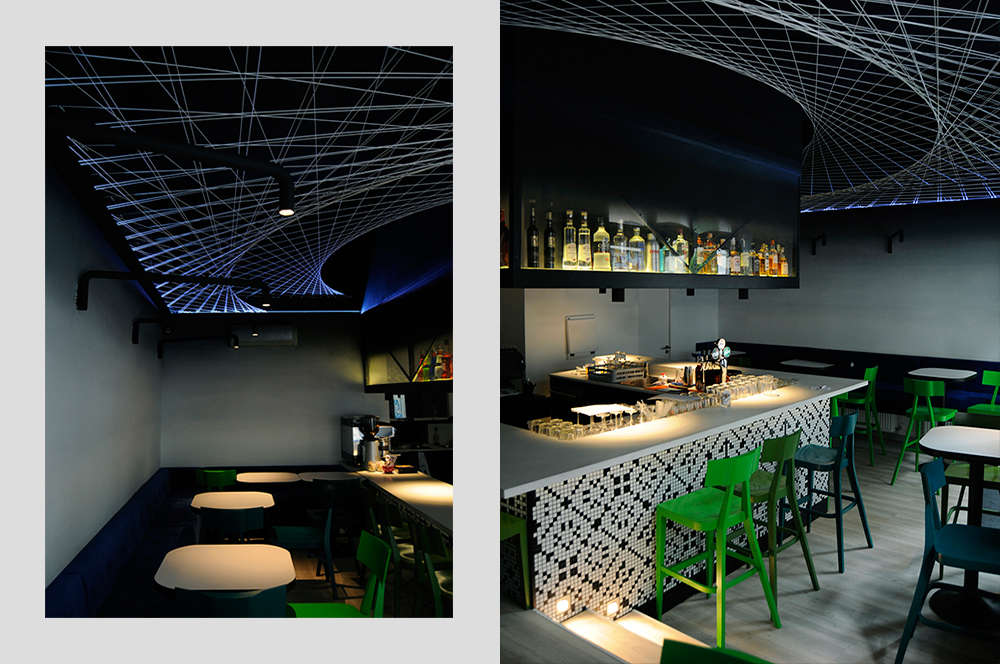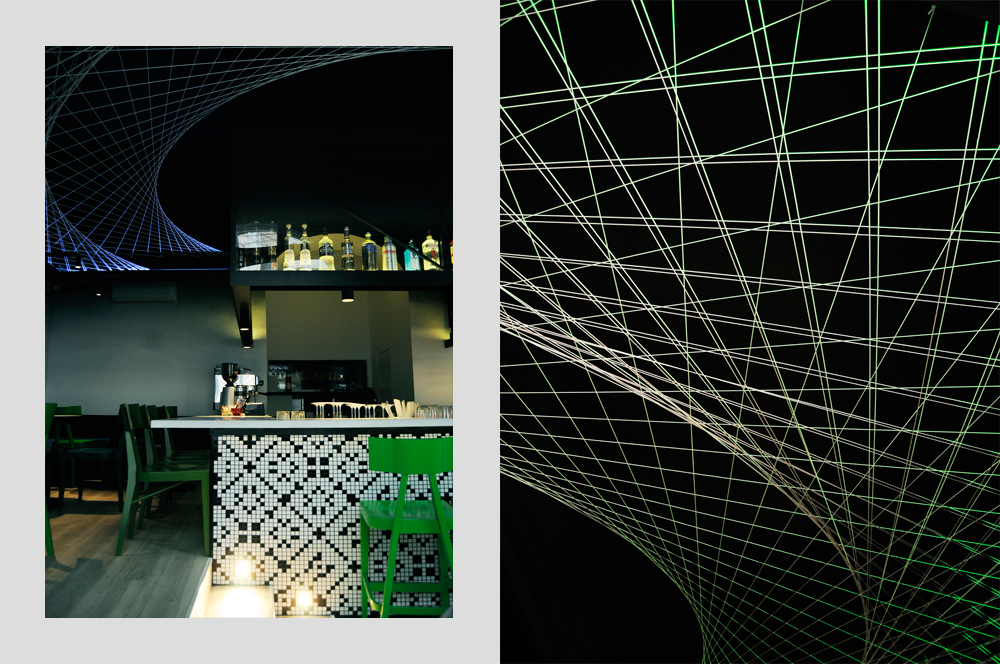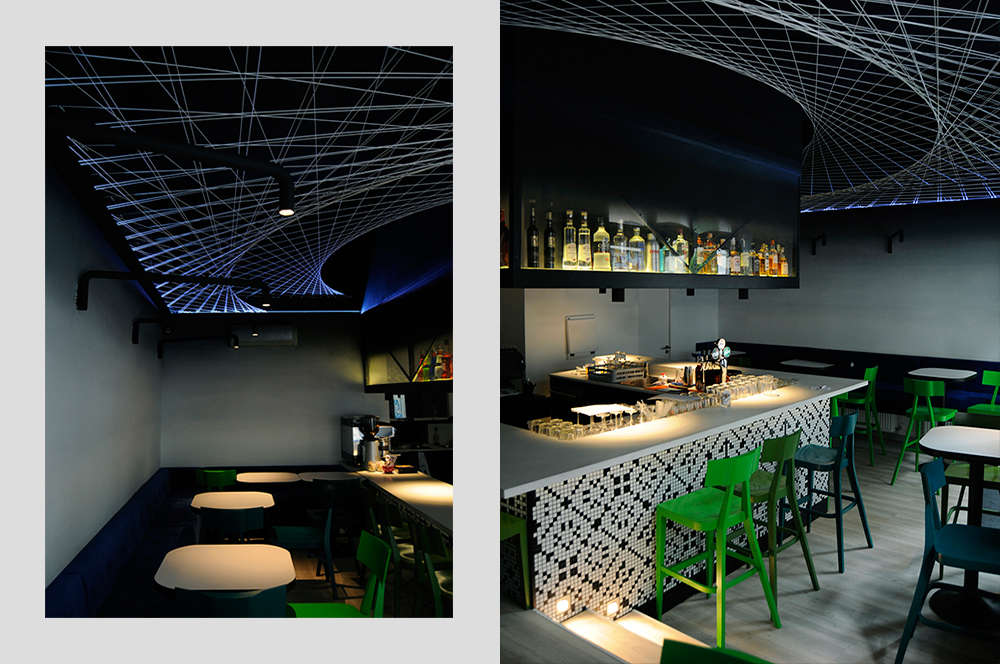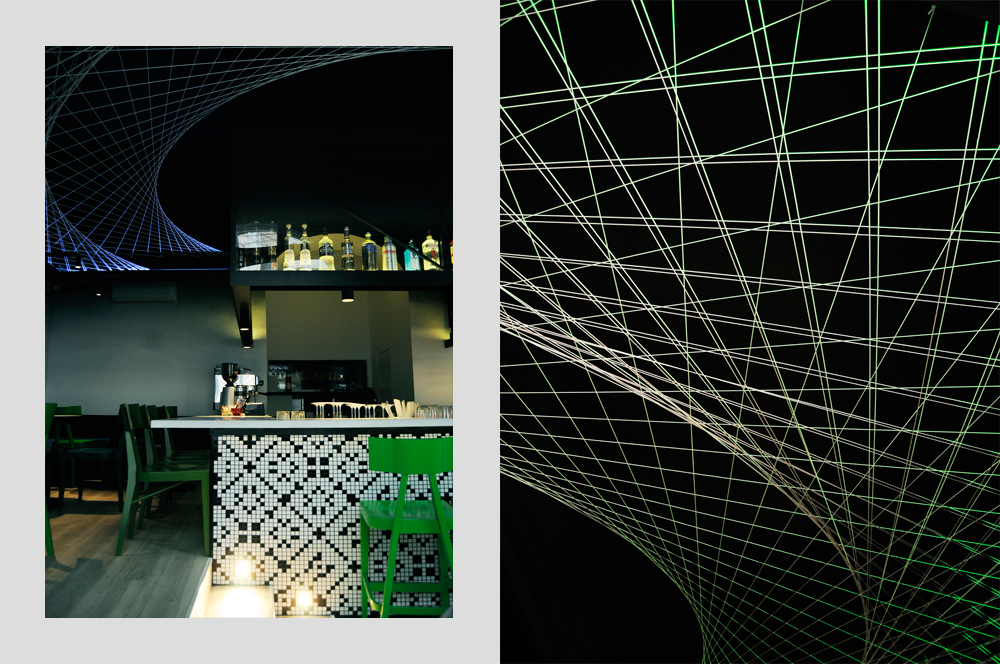 Filo Bar is a place where you have the feeling that the guys at the counter are your buddies and are regulars like you: they know your name, your taste, our favorite type of pizza and the way you like the wine spritzer. If you sit at the long counter they're gonna start chatting with you or in case you prefer the spongy sofa you can be in your own for a bit. If you look around you will see that the place - like the owners - are full of fun and some math on a geek way.
Client: Filo Food-Drink Kft.
Architect: Zsolt Alexa, Donát Rabb, Ákos Schreck, Ivett Tarr, Kata Gulyás, Ferenc Kis
Lighting fixtures: András Jánosi
Graphic design: Ákos Szabó
Photography: Győző Horváth
Location: Dob Street 32, Budapest, Hungary
Prize: Gastro Design 2014, First interior design and communication competition of Turizmus Trend / Vendég & Hotel magazine – finalist in interior and furniture design category + audience award
___
Ez egy olyan hely ahol a pult mögött álló arcok a haverjaid, nekik is ez a törzshelyük. Tudják a neved, hogy mit szeretsz reggelizni, melyik a kedvenc pizzád és milyen borból szereted a fröccsöt. Ha a hosszú pult mellett ülsz szóval tartanak, ha a süppedős kanapét választod kicsit lehetsz a magad társasága is. Ha körülnézel sokat megtudhatsz a srácokról: kicsit matekos, kicsit mérnöki és nagyon játékos.
Megrendelő: Filo Food-Drink Kft.
Építész: Alexa Zsolt, Rabb Donát, Schreck Ákos, Tarr Ivett, Gulyás Kata, Kis Ferenc
Világítástechnika: Jánosi András
Grafika: Szabó Ákos
Fotós: Horváth Győző
Helyszín: Dob utca 32, Budapest, Magyarország
Díj: Gastro Design 2014, A Turizmus Trend / Vendég & Hotel szaklap első alkalommal meghirdetett belsőépítészeti dizájn és kommunikációs versenye – közönségdíjazott és döntőbe jutott vendéglátóipari berendezés és belsőépítészet kategóriában
___