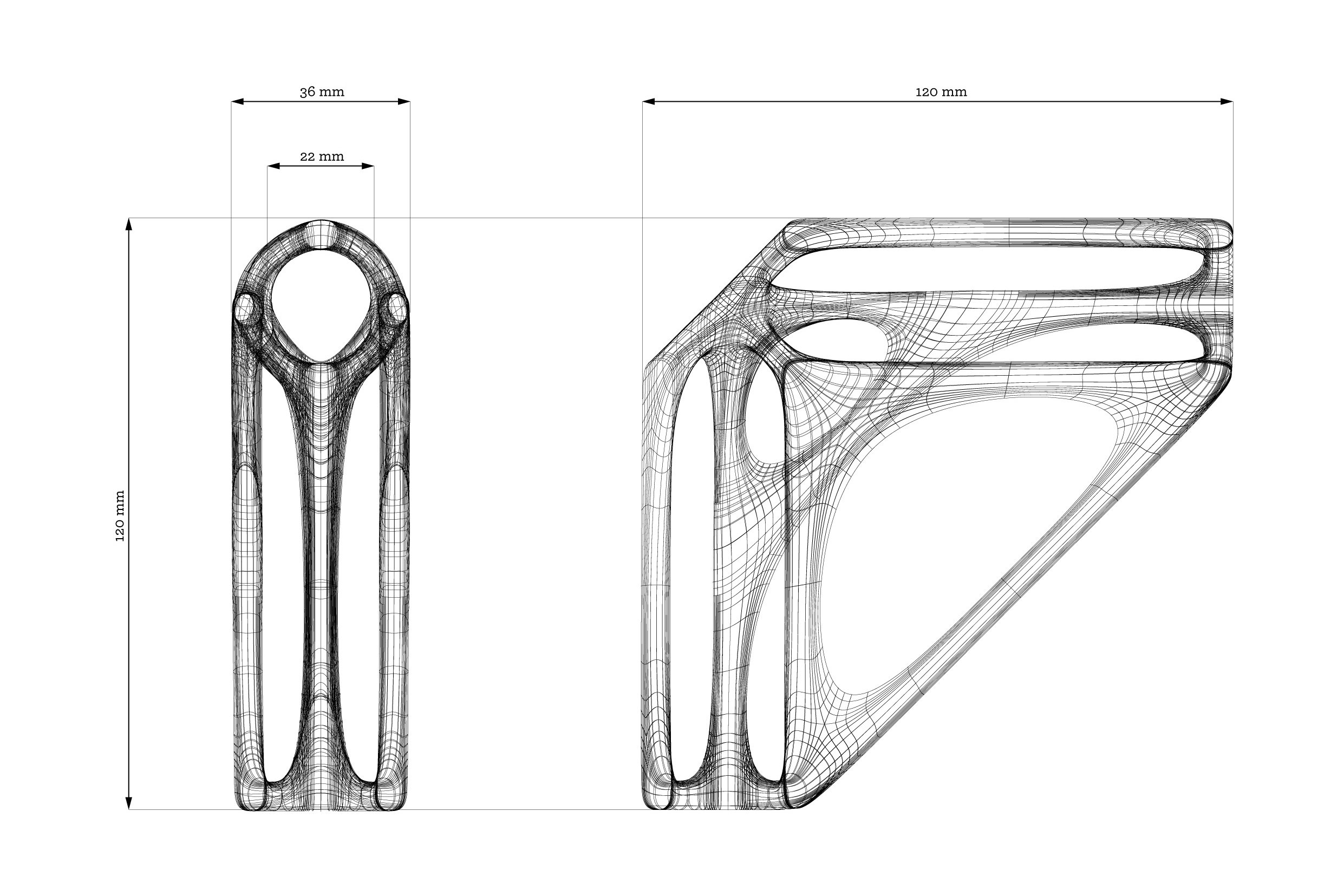 Institute of Applied Arts, Sopron, Hungary
Product Design, Semester Project
'COBWEB', web of a spider is something what people usually do not want to see in a corner. However, I let appear these spider-web in a corner of a table. The cobweb is quite a stable and strong system, without that contains just a bit of surplus substance.
During the process of designing the COBWEB 3d-printed joint the most important point was using less substance without give less durability and stability. Amount of substance is very important in case of deigning of a 3d-printed object, because due to amount of substance increase the price of producing too. Moreover, the web of a spider is a beautiful work of art, using as a sample of a design product was an interesting challenge.
Supervisor: Sándor Csepregi
Consultant: Gergely Nádas
Words: Fülöp Benjamin Bechtold
Alkalmazott Művészeti Intézet, Sopron
Terméktervezés, évközi projekt
A COBWEB az angol nyelvben pókhálót jelent. Az emberek nagy része ugyan nem kedveli a sarkokban megjelenő pókhálókat én mégis engedtem, hogy egy asztal négy sarkán megjelenjen. A pókháló egy nagyon stabil és erős rendszer, ugyanakkor nincs benne egyetlen gramm felesleges anyag sem.
A COBWEB 3d-nyomtatott csomópont tervezésekor a fő szempont a lehető legkevesebb anyag felhasználása volt a tartósság és stabilitás csökkenése nélkül. A felhasznált anyag egy 3d-nyomtatott tárgy esetében nagyon fontos szempont, hiszen az anyagmennyiség függvényében nő az előállítási költség is. Emellett nem elhanyagolható a nyolclábúak által szőtt háló esztétikuma sem, ennek átültetése egy tárgyba izgalmas formai játék.
Témavezető: Csepregi Sándor
Konzulens: Nádas Gergely
___
A projekt az NKA támogatásával került bemutatásra