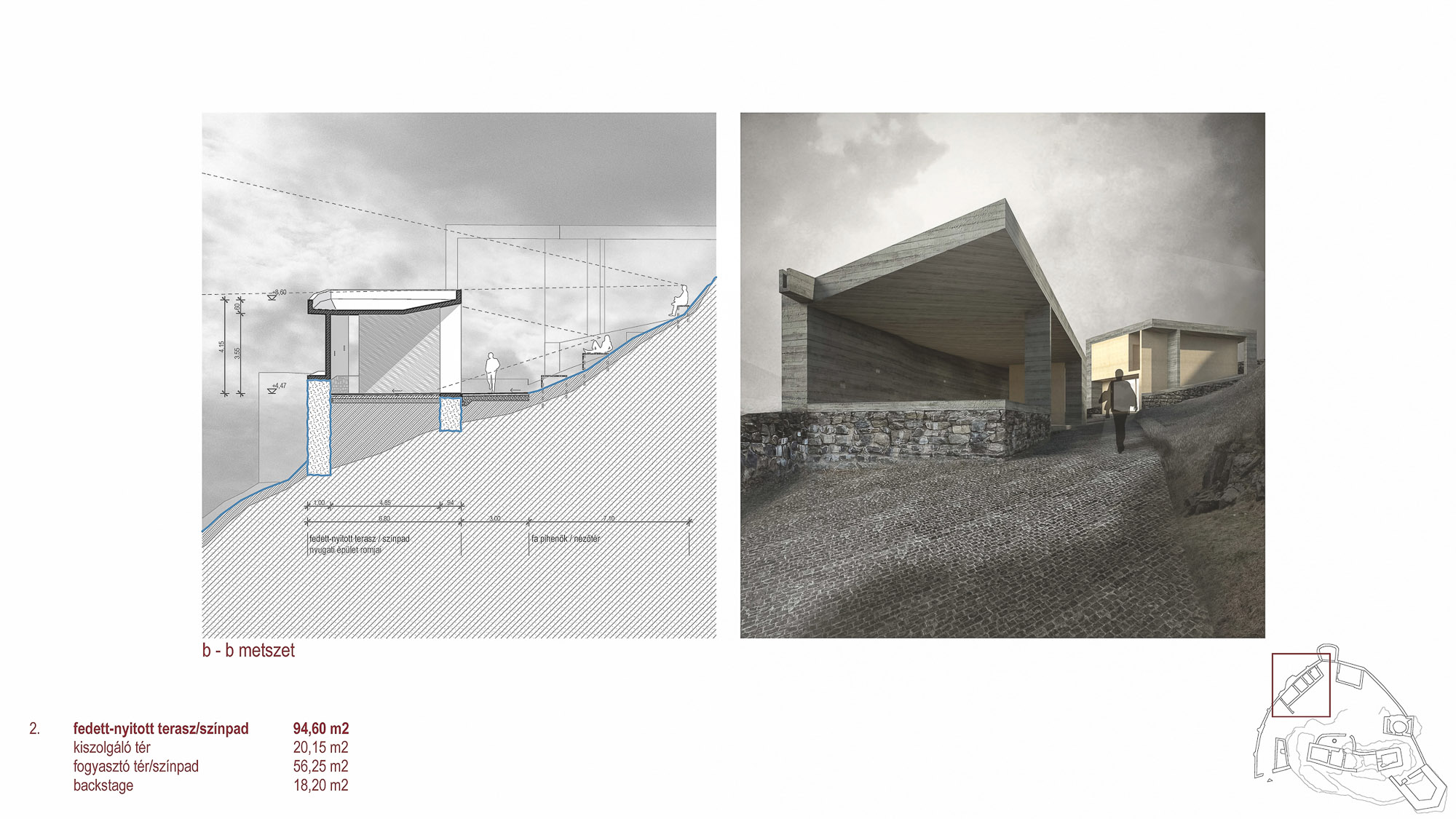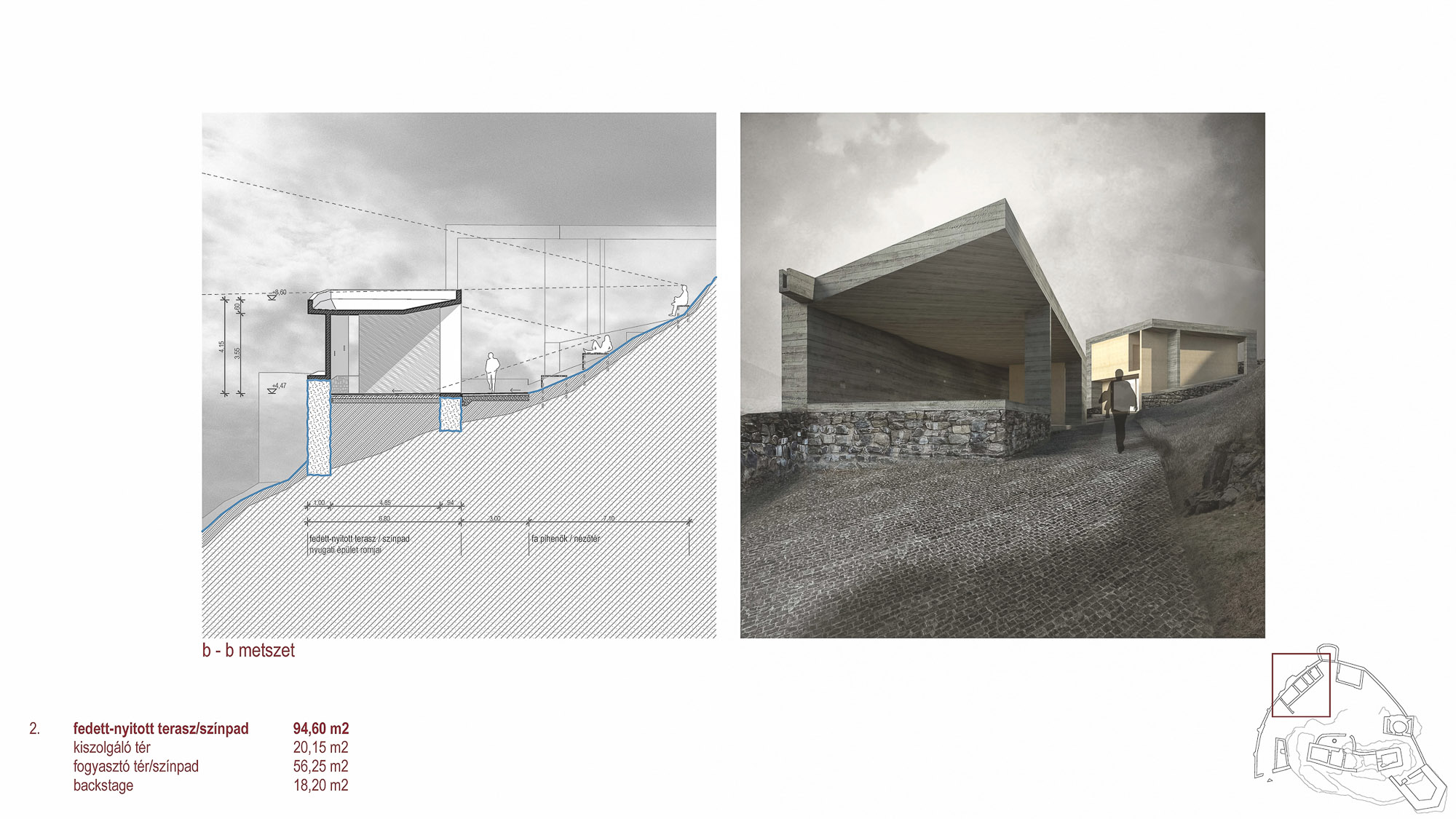 BME, Architecture, MSc Graduation Project
My diploma is not a castle reconstruction or monument renovation, more like a search for the deeper meaning and redefining of the term 'castle'. The essential of my project is based on the recognition that the castle reveals itself in a completely different interpretation for the man of today as it did in the past. This difference brings attention to the more vital reasons of building: the relationship between man and nature where architecture is the language, our reaction to the environment. In the past, the castle was built for escalating survival chances: built on a higher ground with good defensibility, from local materials and the focus was on the function instead of aesthetics. It was created in the most logic, honest manner.
Today, it lost its original function but the appearance of tourism and how we handle our built heritage transformed it: it became a source of experience. This source is based on the castle itself, which could be a symbol of human creativity: how men was capable of creating a home on the petrified lava of a volcano. The other base is our awe to the nature, emphasized by the panorama and the basalt-pillars of the peak. So the reason for building the castle further is escalating the experience so the visitor could live the time (extended by new functions) spent here as a path, which unfolds on the highest peak as a catharsis. My architectural answer tries to express this in the most honest, harmonic way, but in a fresh and progressive manner.
Supervisor/Consultant: Miklós Jancsó
___
BME, Építészmérnök szak, MSc diploma projekt
Mi a vár?
Salgó vára számomra többet jelent, mint egy régi, romjaiban megmaradt műemléket. Ugyanolyan fontos az a több millió éve lezajló dráma, ami itt történt a vulkáni működés részeként, mint az, hogy ezt az évezredek alatt megmaradt magaslatot az ember felhasználta - a saját szolgálatába állította a vulkán erejét, legalábbis annak eredményét. Így értelmezve, Salgó vára több egy egyszerű középkori várromnál, sokkal inkább arról szól, hogyan képes az ember egy ennyire különleges, óriási erejű működés produktumát humanizálni. Így a vár, mint erősség, mint katonai létesítmény háttérbe szorul, redukálódik a lényegre: a természet és az ember kapcsolatára.
Miért építésük tovább?
Múltidézés, egyfajta szentimentalizmus kapcsolódik a várakhoz, tisztelgés őseink és maga az emberiség előtt. Identitásunk megerősítésében játszik szerepet, látjuk, hogy ezt mind építettük, van helyünk, létjogosultságunk a Földön. A világ megváltozott valamikor a 18.-19. században: régi romjaink, a világ magas csúcsai, természeti képződményei új olvasatban tűntek fel: élményforrássá alakultak. Ily módon az élmény fokozása lett az építés célja.
Témavezető/konzulens: Jancsó Miklós
___
Program Partners
Design Workshop
Kreatív Magazin
Gestalten
Skillshare