Anna Farkas / Anagraphic, 2014, Hungary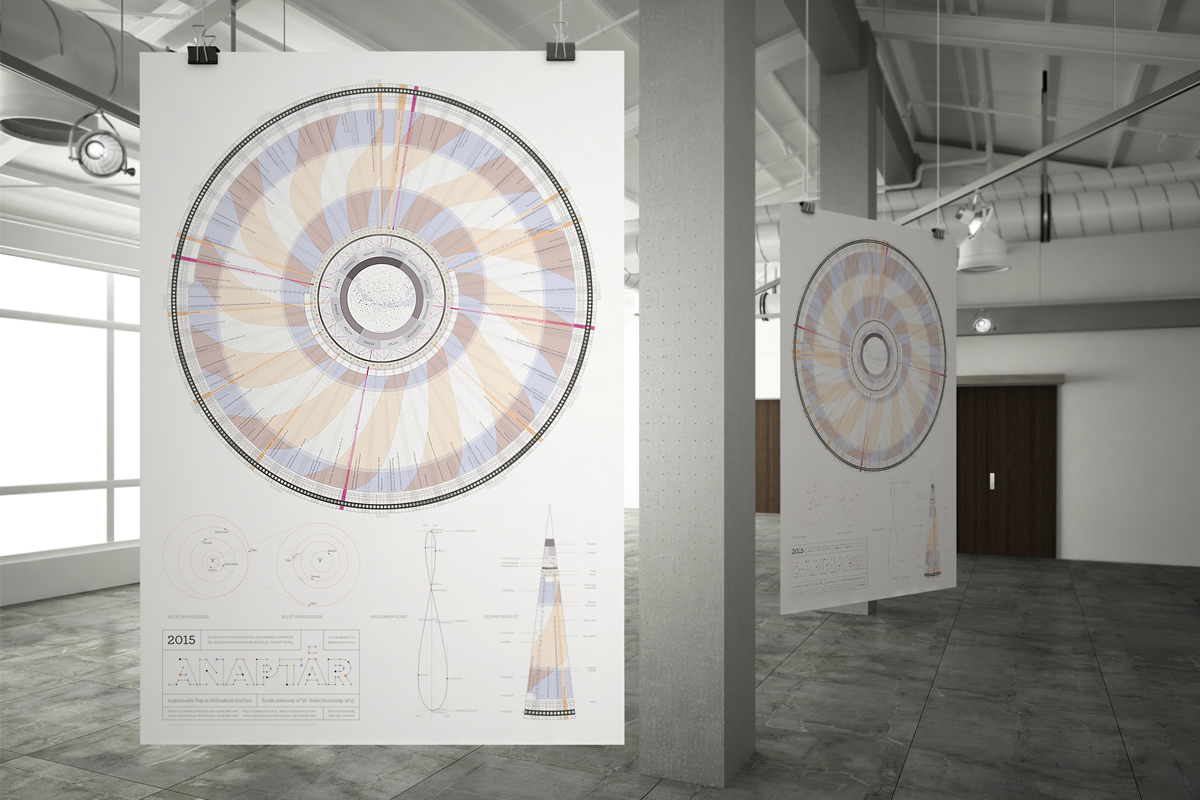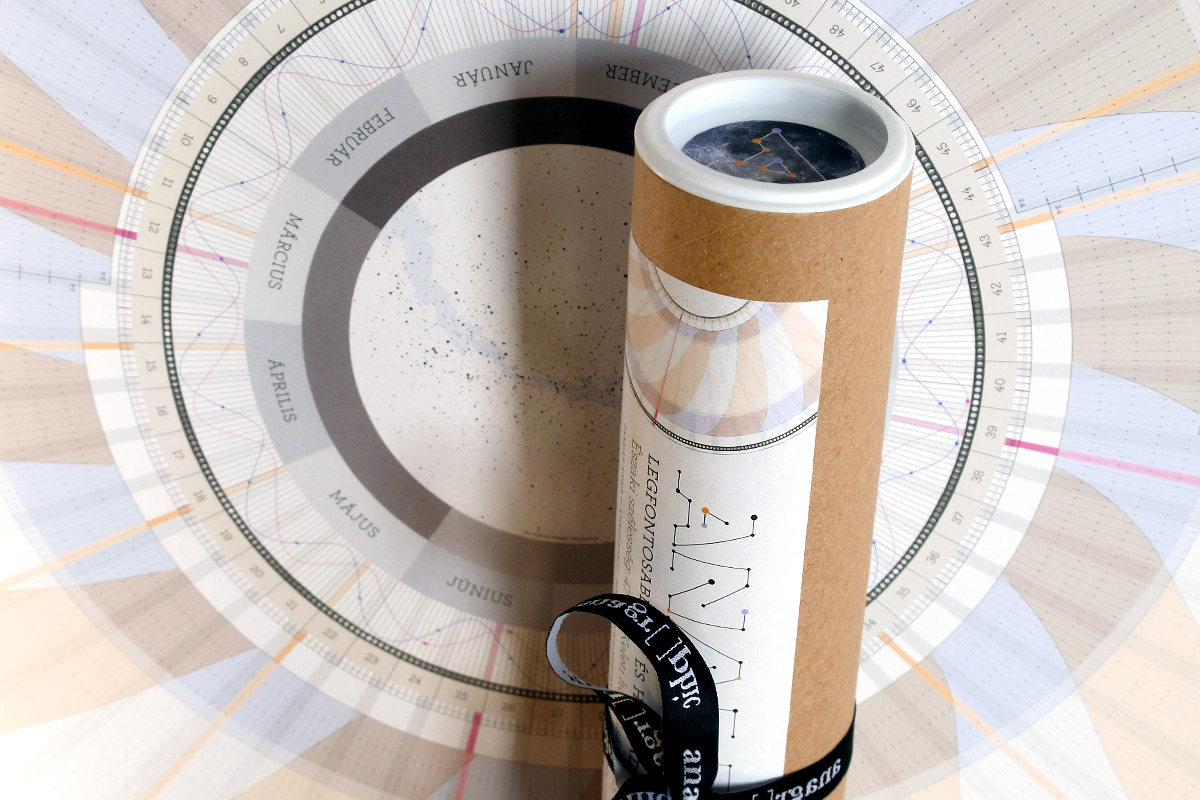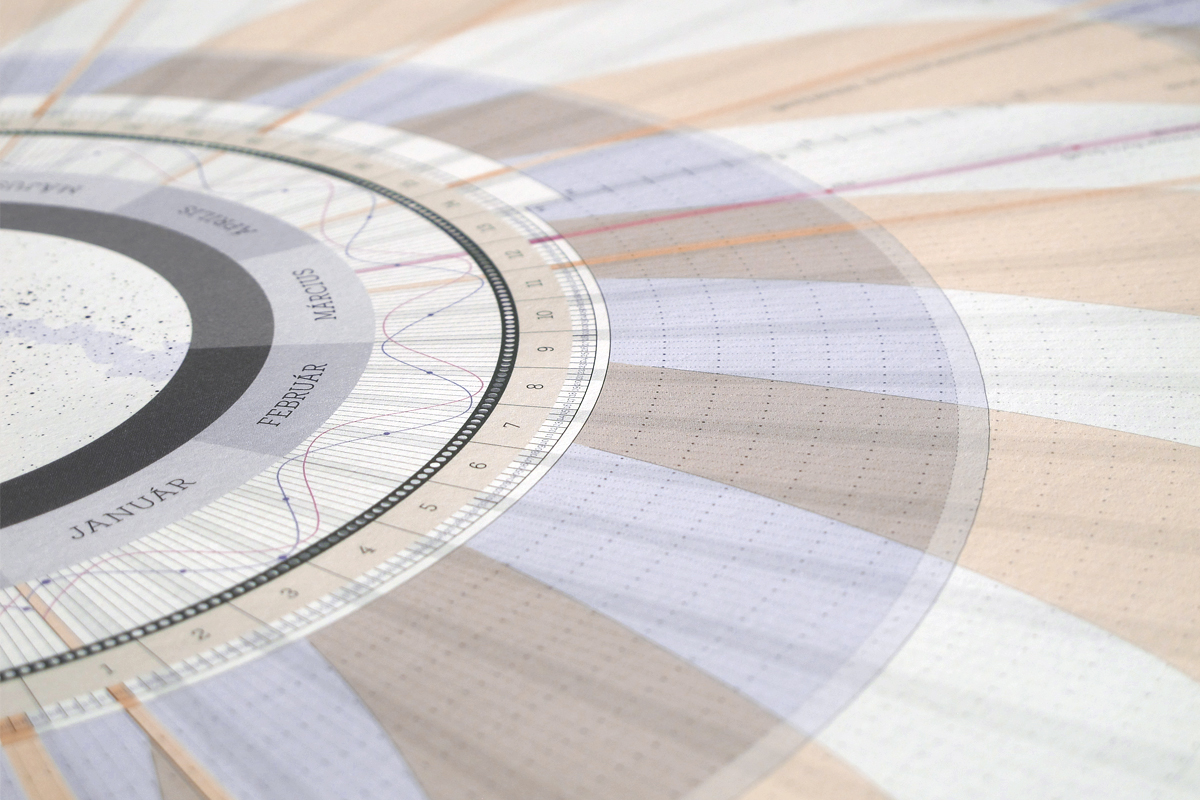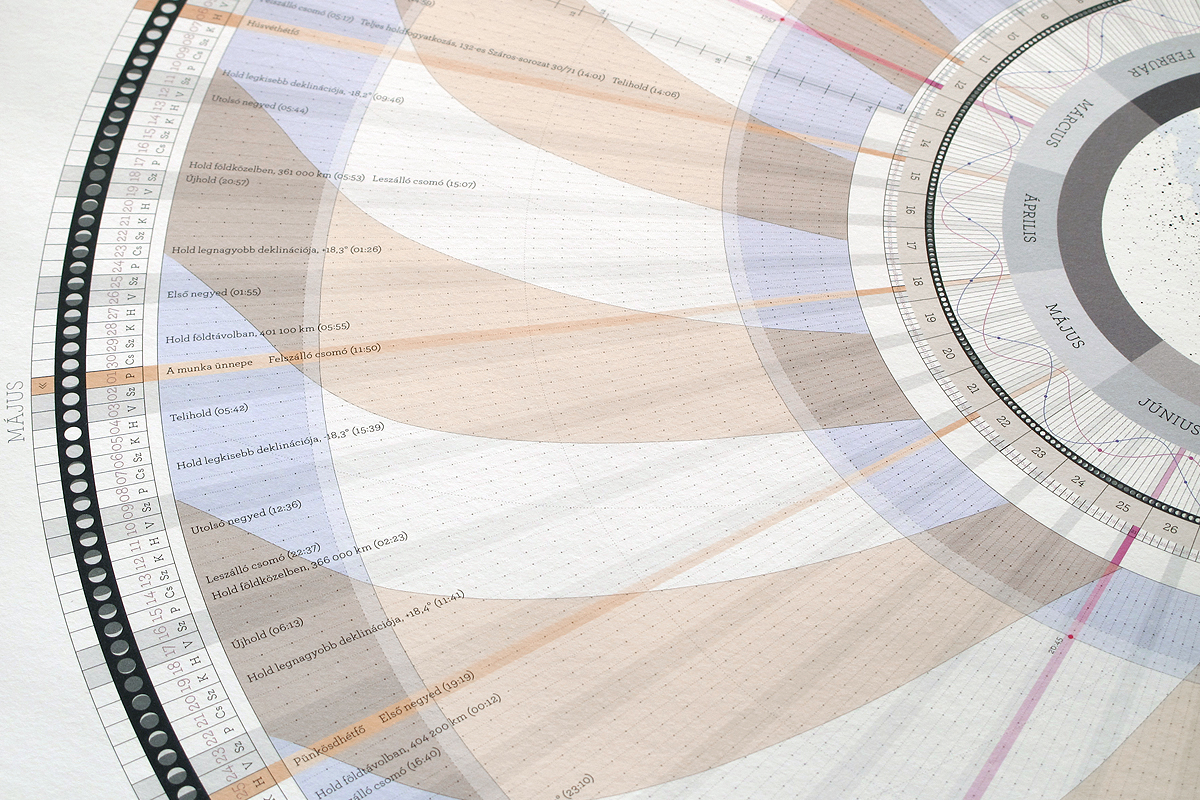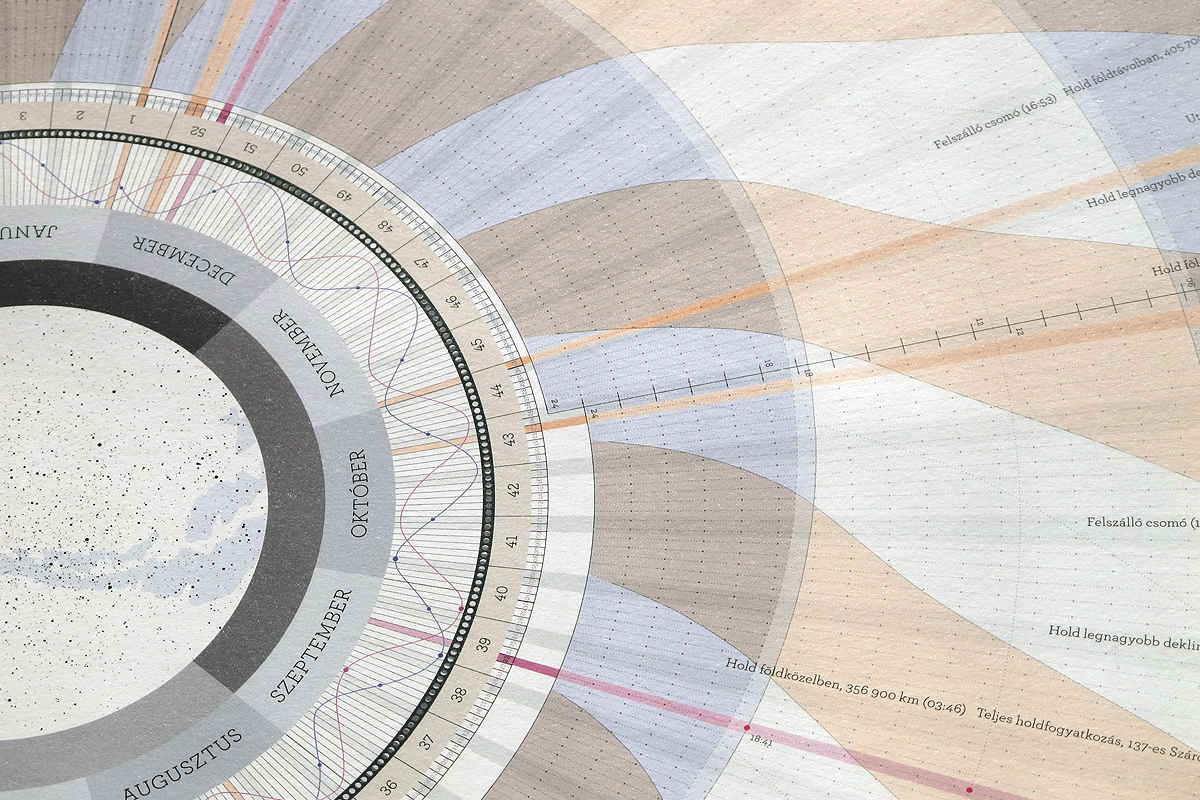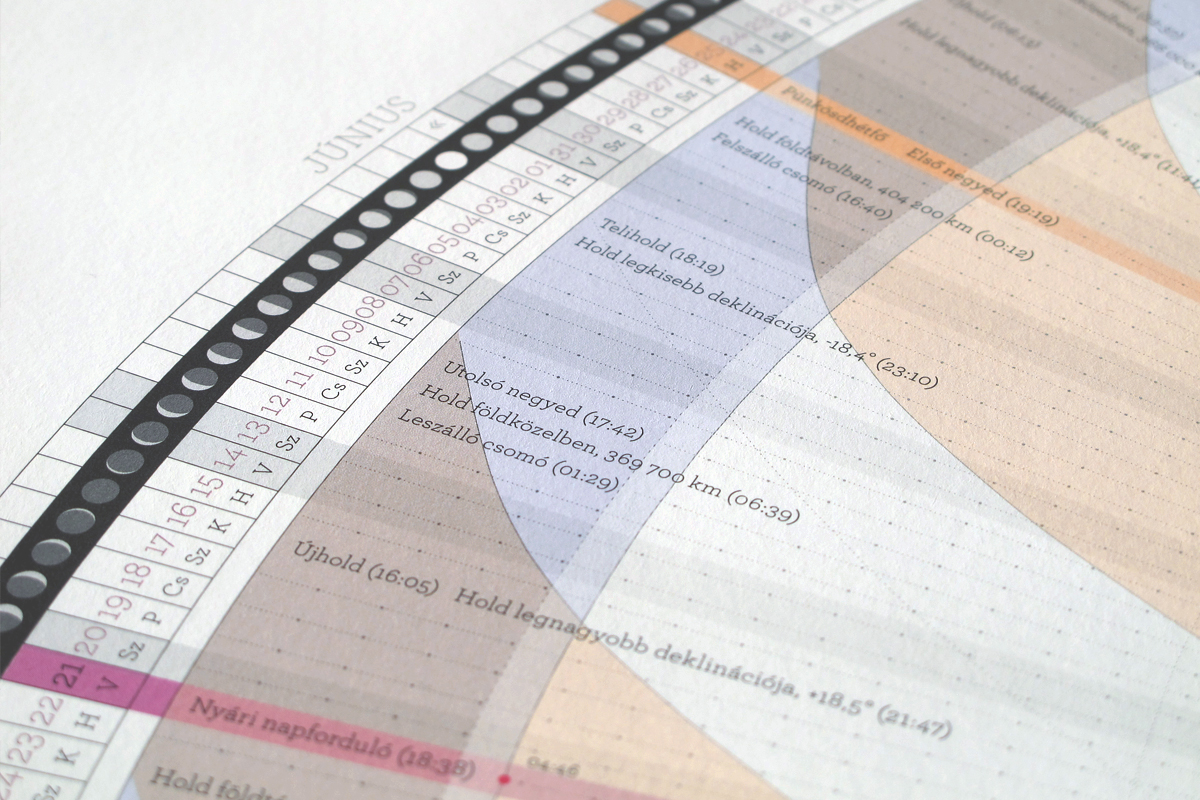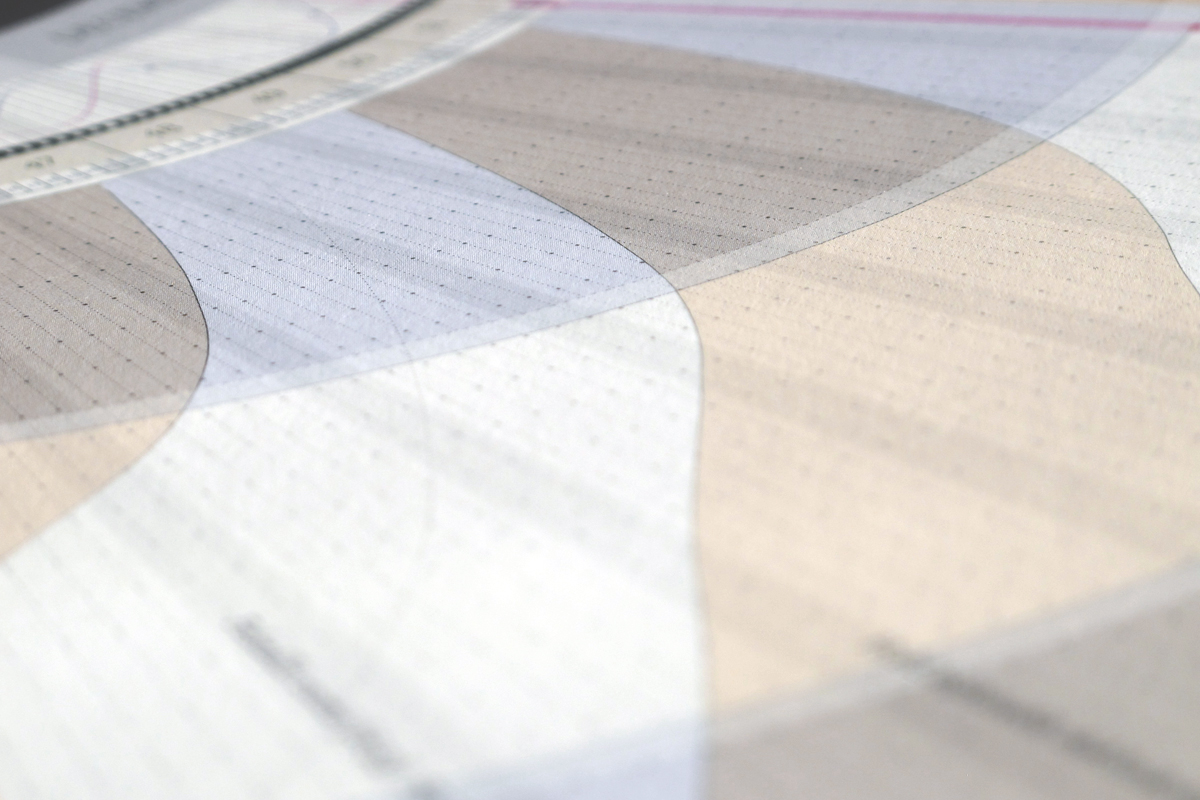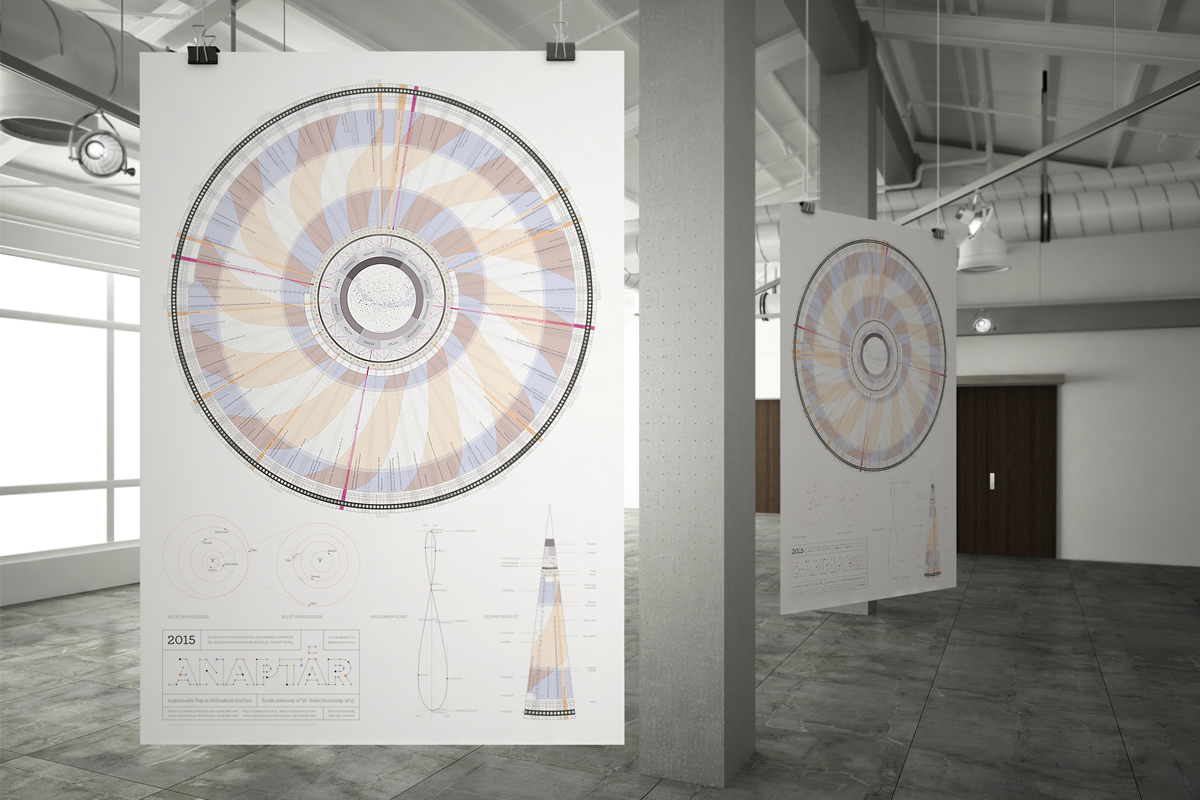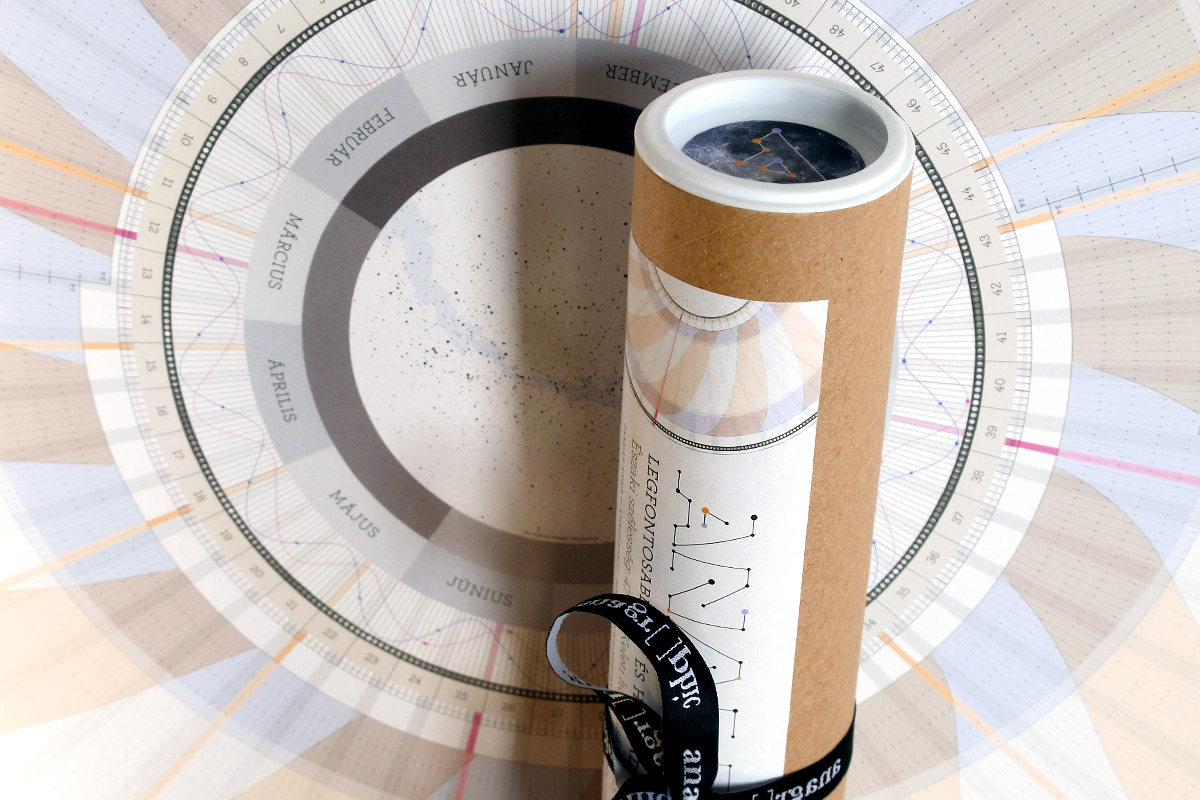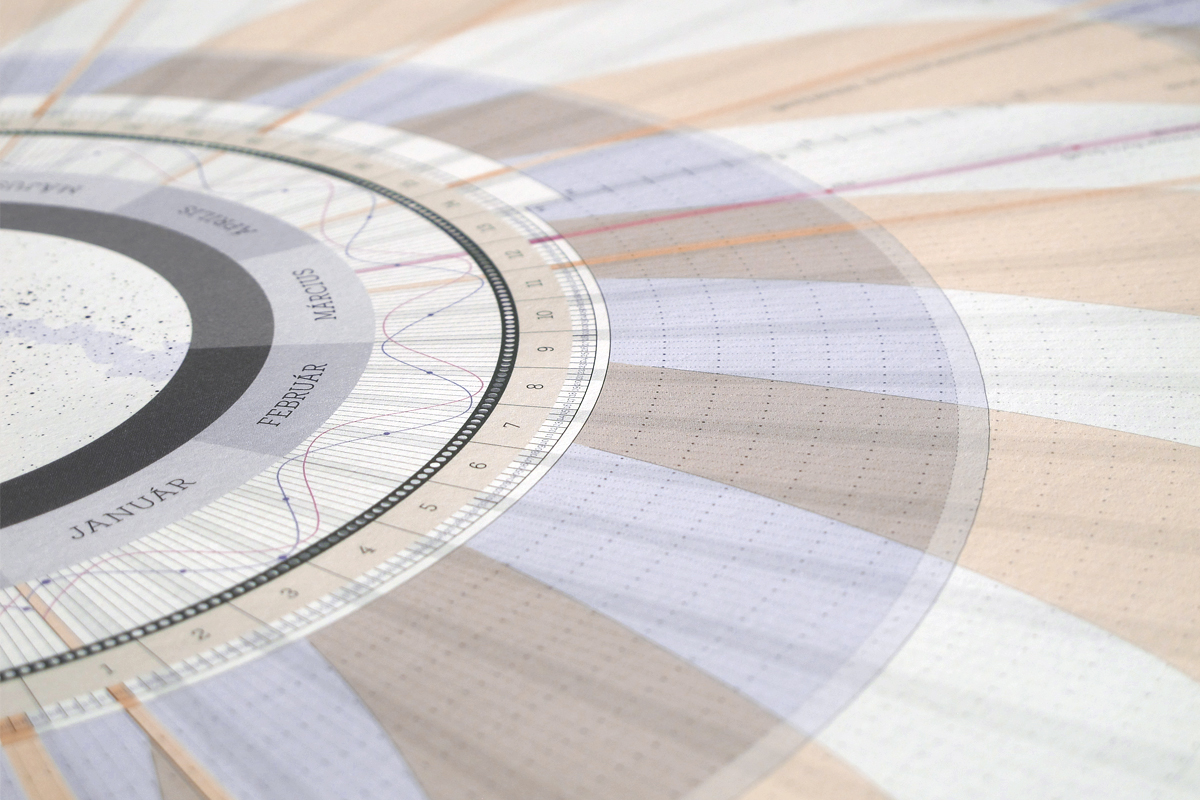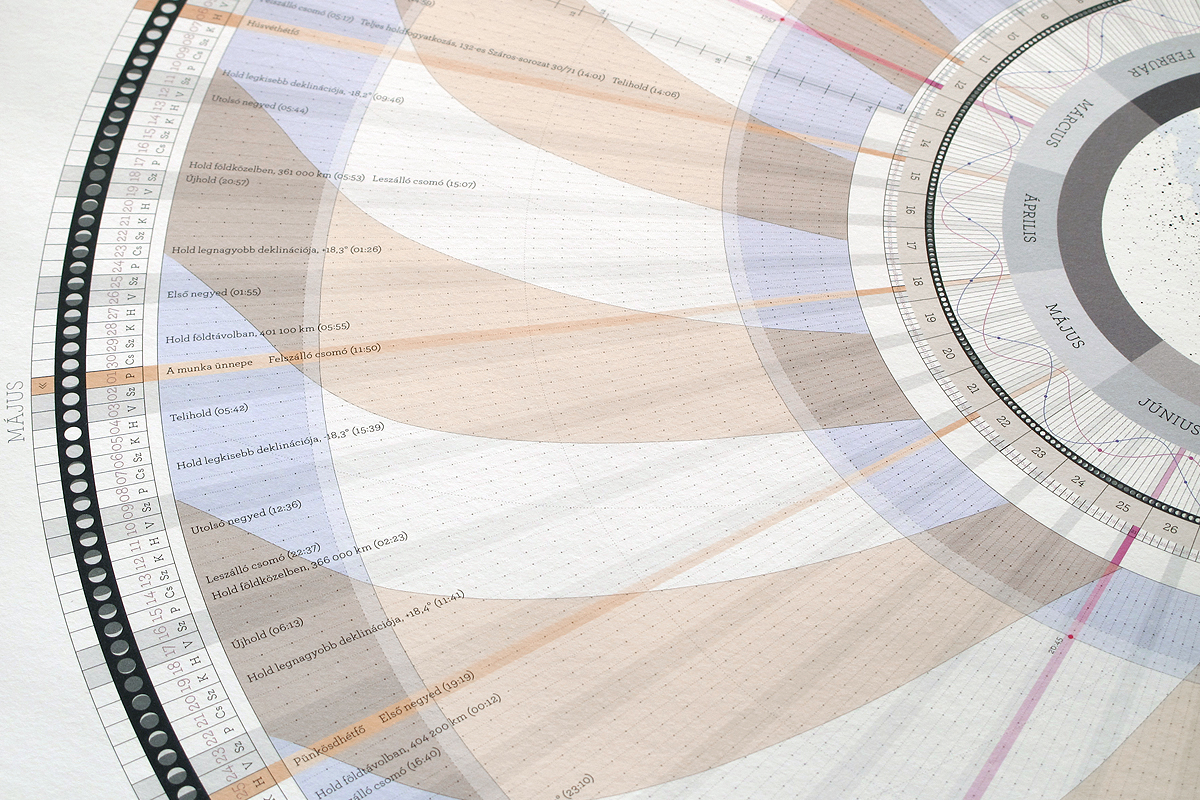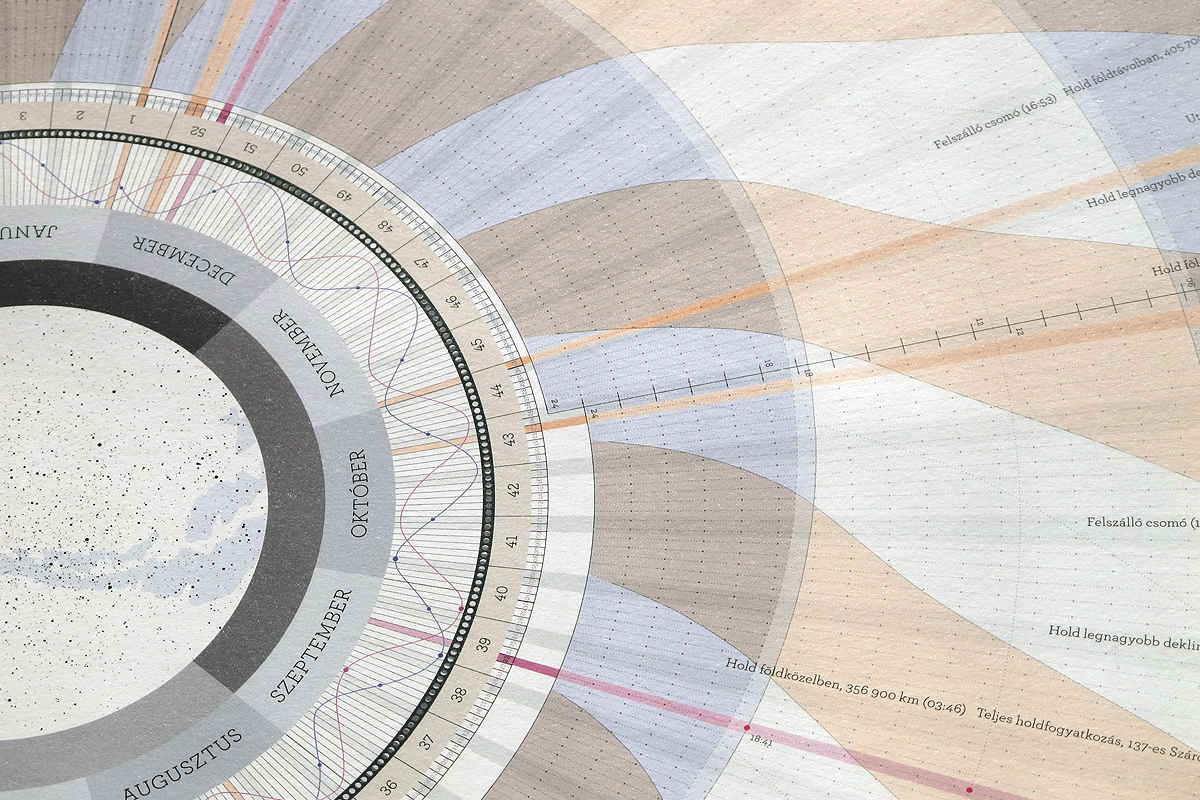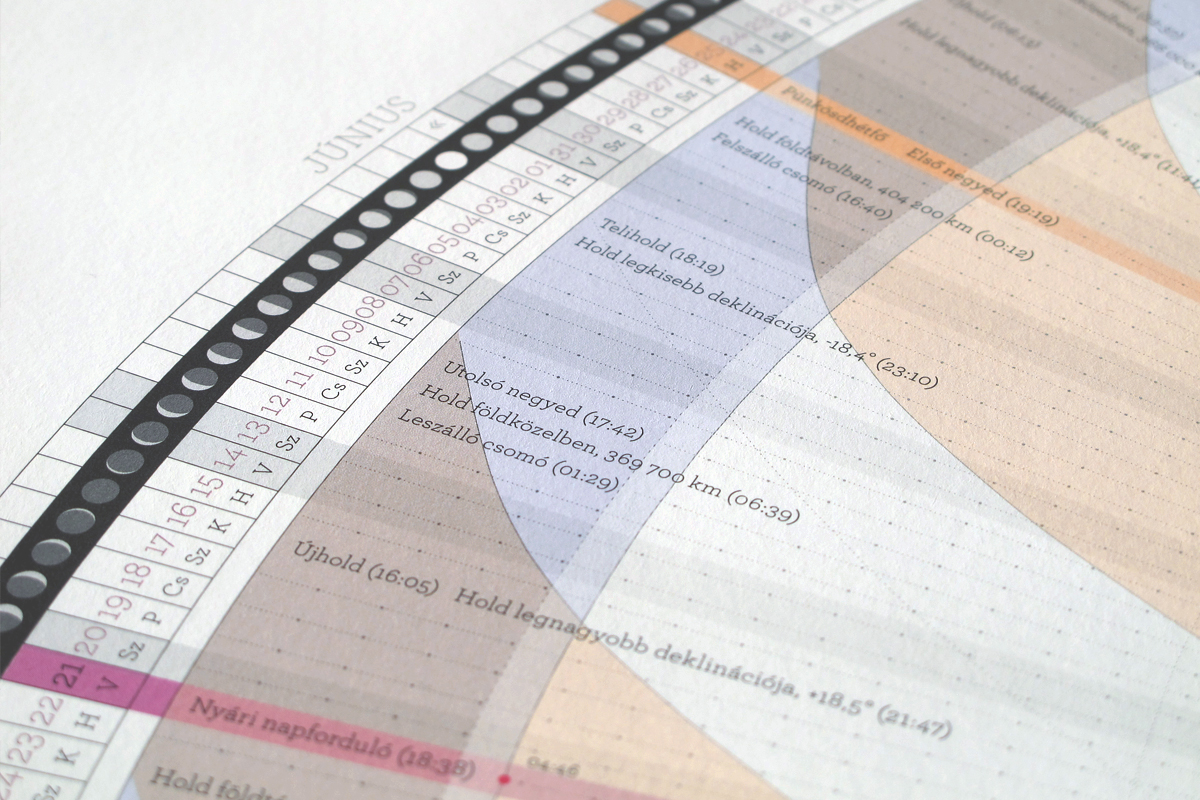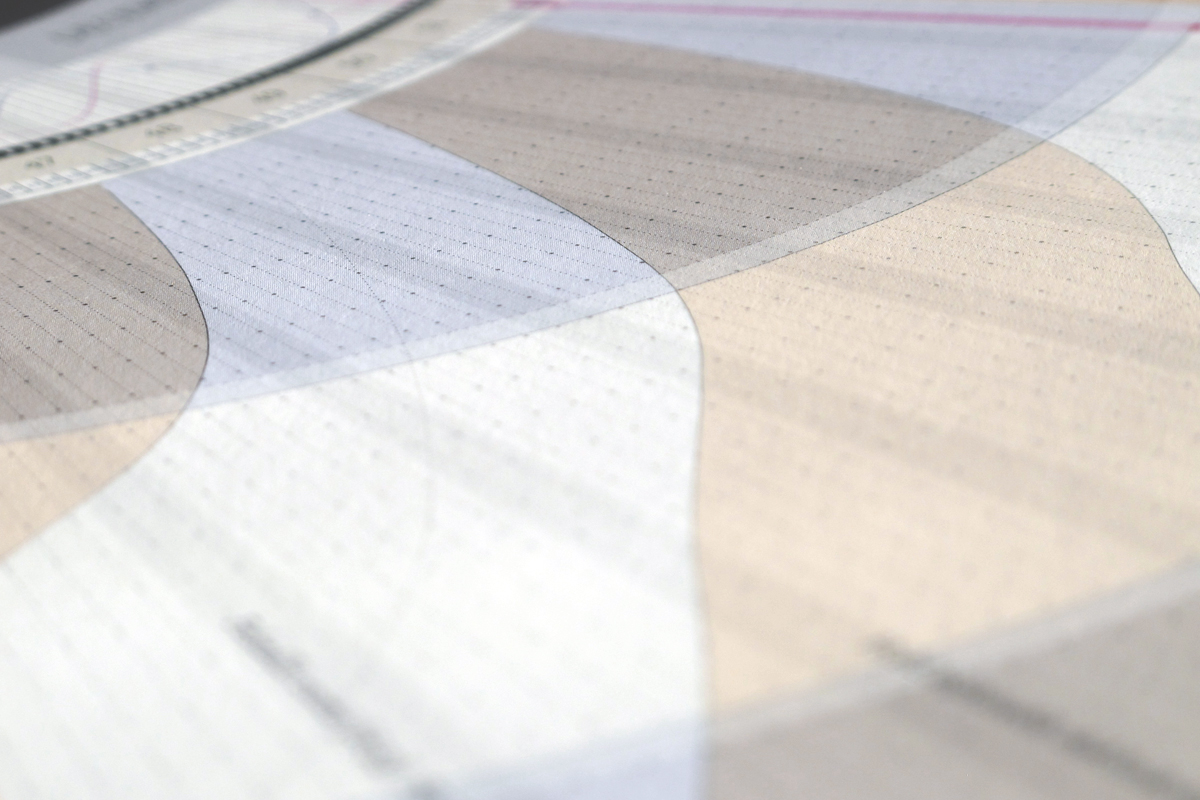 One may have come across calendars of a radial arrangement so far, nevertheless, this Anaptár calendar, visualising the data of the Sun and the Moon in a novel fashion, offers far more information than simply enumerating days, and also offers far more recognition. The method of data presentation and visual depiction of the lunar cycle never seen before actually makes astronomic correlations apparent. The development of this brand new system of representing lunar data was inspired by calendars of Très Riches Heures du duc de Berry, Giovanni Battista Agnese and Clipclop. Thanks to the infographic mapping of lunar and solar data requiring exceptional meticulousness, and the unique graphic and typographic solutions, Anaptár provides visual sensation even for beholders who would not pore over the details.

The system of Anaptár applies graphic means in an even visually enjoyable way for depicting the following data: year, seasons, months, weeks, days, weekends, holidays, solstices and equinoxes, correction for summer and wintertime (daylight saving time), perihelion and aphelion, hours of sunshine, dawn, sunrise, culmination of the Sun, sunset, dusk, lunar cycles, moonrise, moonset, culmination of the Moon, cyclic alteration in the distance of the Moon to Earth, declination of the Moon, solar and lunar eclipses.
Price: 4.900 HUF
Találkozhattunk már korábban is radiális elrendezésű naptárakkal, de ez a naptár – a Nap és a Hold adatainak újfajta grafikai megjelenítésével – jóval több információt hordoz, mint a napok felsorolása és lényegesen több felismeréshez juttat. A még korábban, ilyen módon soha nem megjelenített holdciklus adatábrázolási módszer és vizuális megjelenítés, szó szerint szemmel láthatóvá teszi a csillagászati összefüggéseket. Az újfajta holdadat-ábrázolási rendszer kifejlesztését a Très Riches Heures du duc de Berry, Giovanni Battista Agnese és a clipclop naptárai inspirálták. Köszönhetően a hold- és naptáradatok rendkívüli precizitást igénylő infografikai leképezésének, valamint az egyedi grafikai és tipográfiai megoldásoknak, az anaptár vizuális élményt nyújt a részletekbe bele nem merülő szemlélő számára is.
Az Anaptár-rendszer grafikai eszközökkel, vizuálisan is élvezhető módon ábrázolja a következő adatokat: év, évszakok, hónapok, hetek, napok, hétvégék, ünnepnapok, jeles napfordulók és napéjegyenlőségek, nyári és téli időszámítás, napközel és naptávol, napsütéses órák száma, pirkadat, napkelte, Nap delelése, napnyugta, alkonyat, holdciklusok, Hold az égen való megjelenése, holdkelte, holdnyugta, Hold delelése, Hold–Föld-távolság ciklikus változása, Hold deklinációja, nap- és holdfogyatkozások, meteorrajok.
Ára: 4.900 Ft