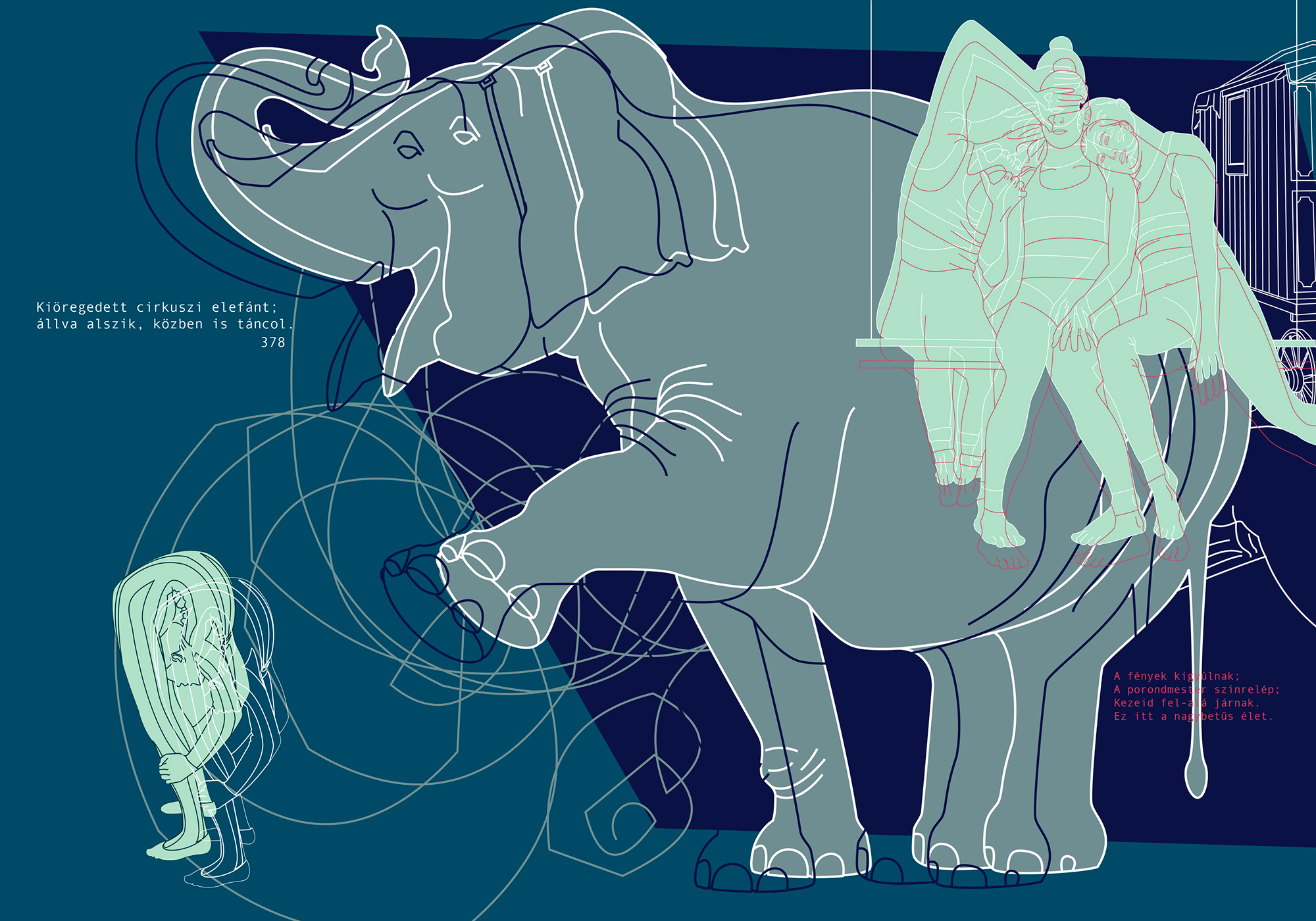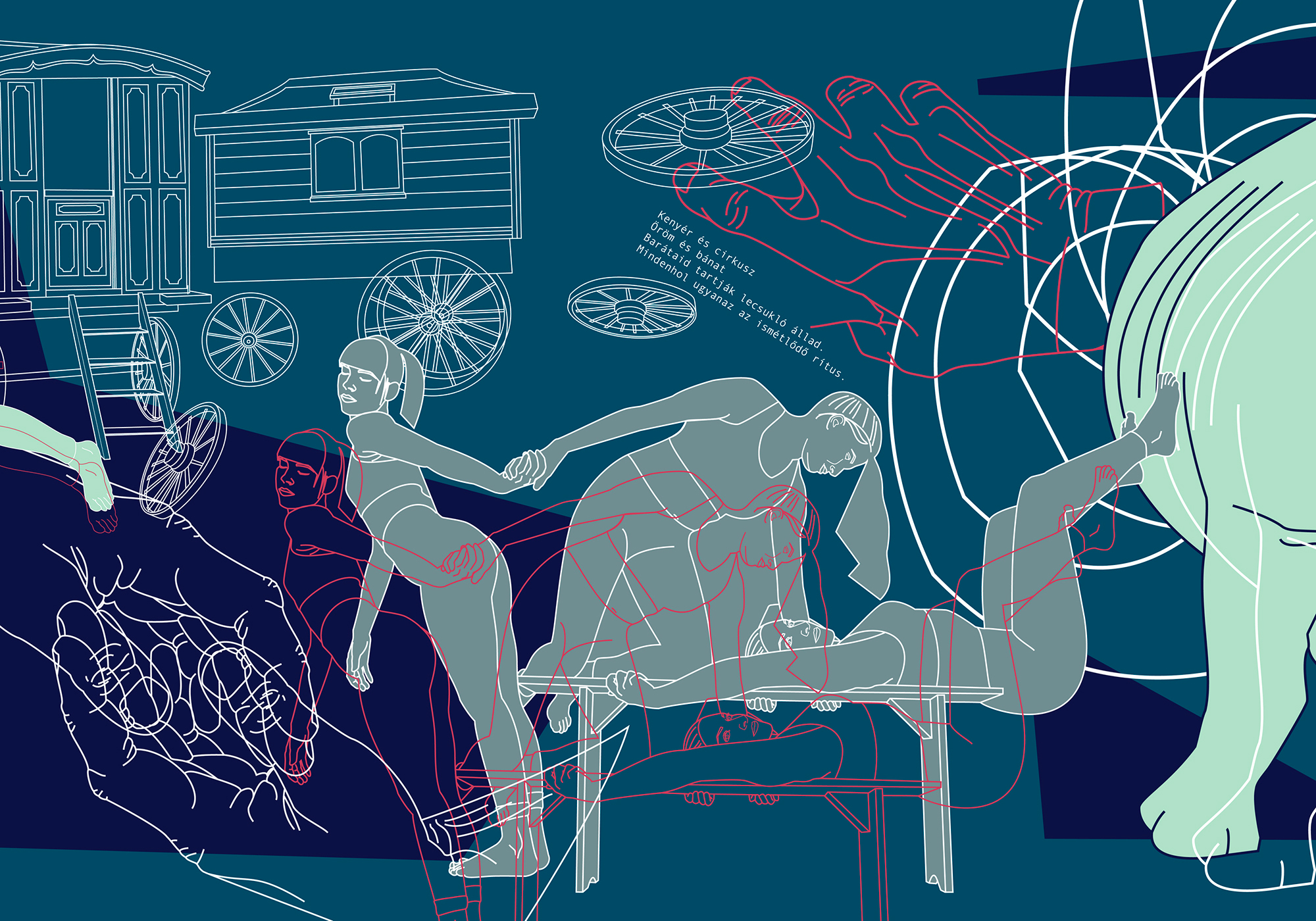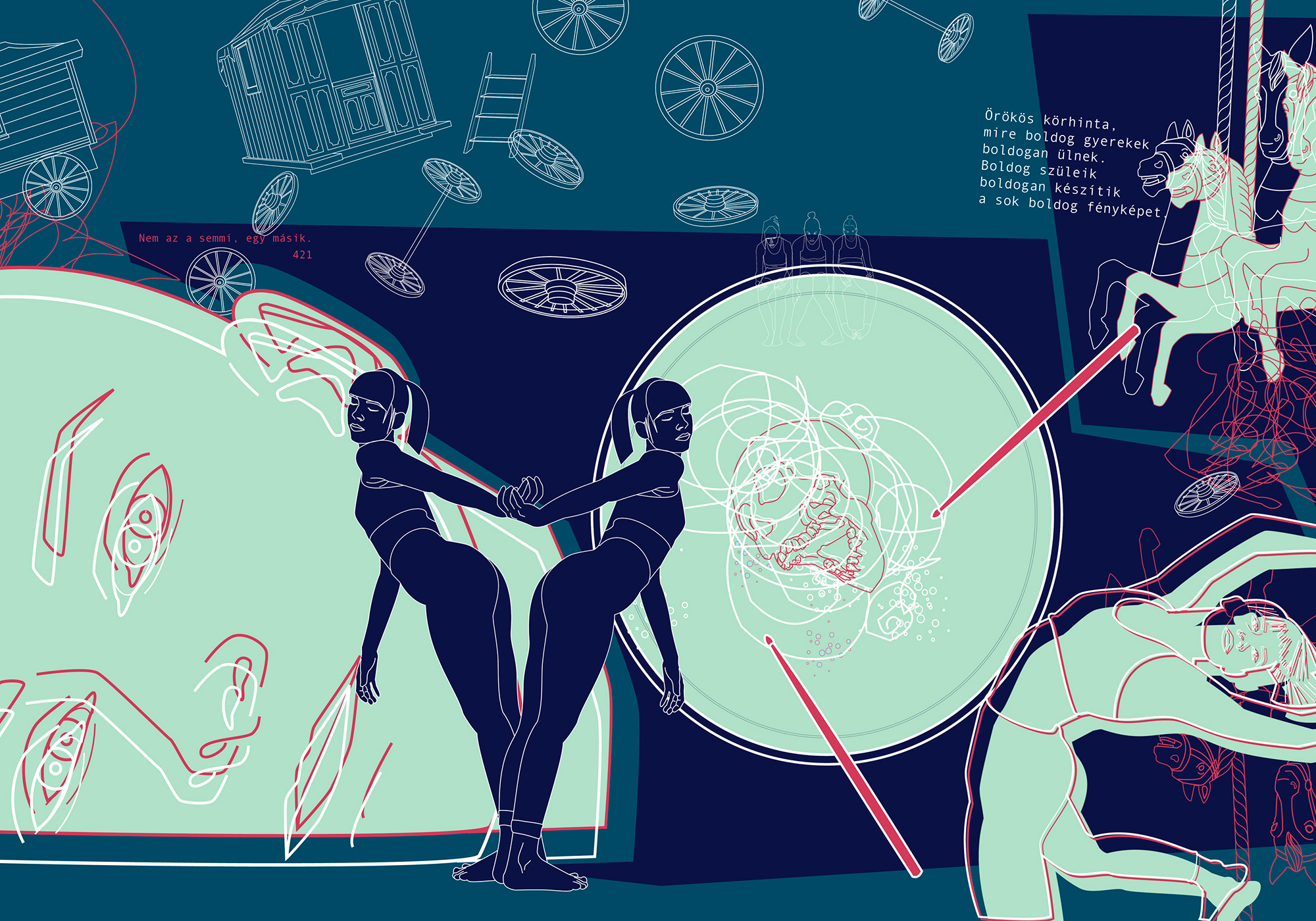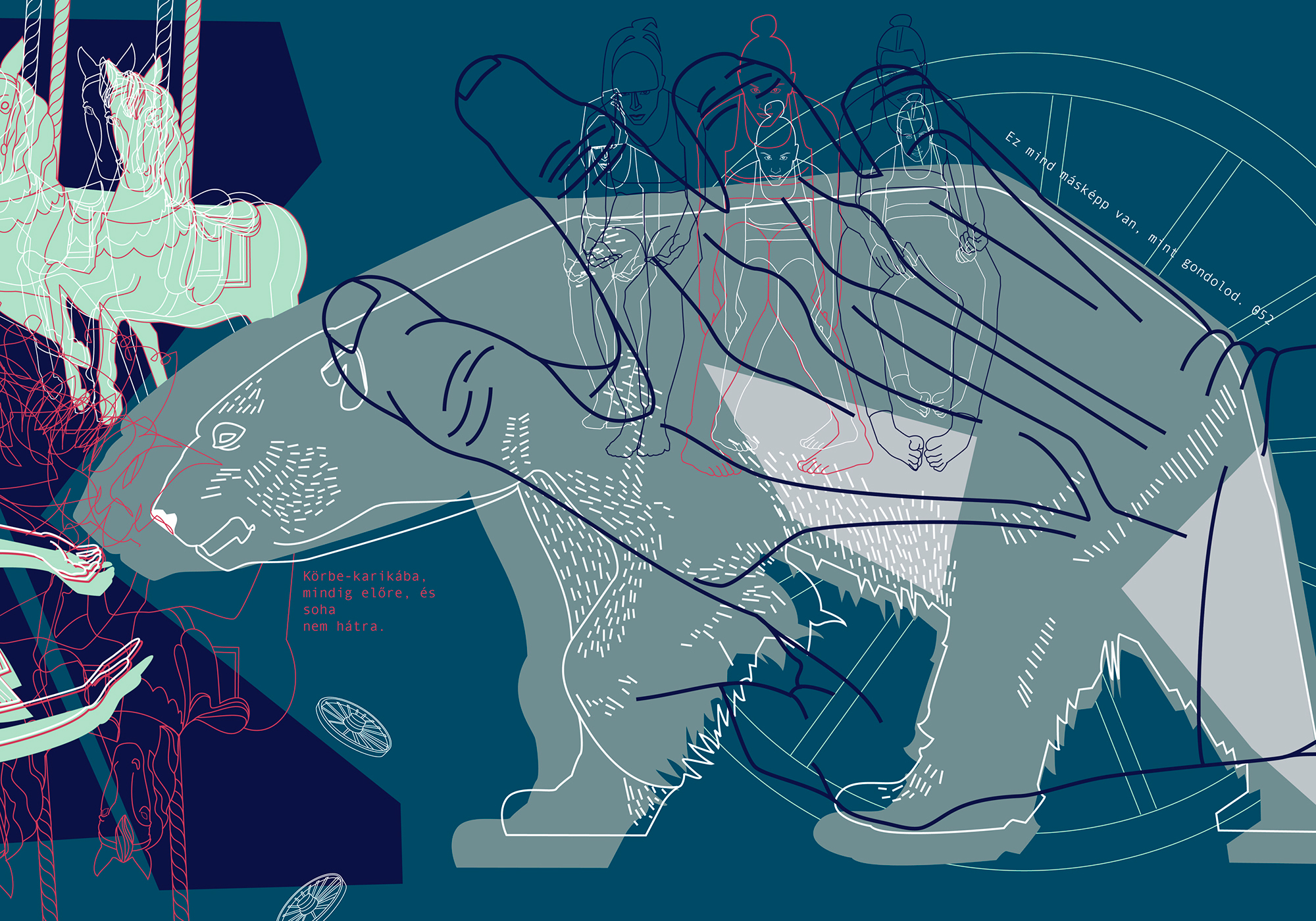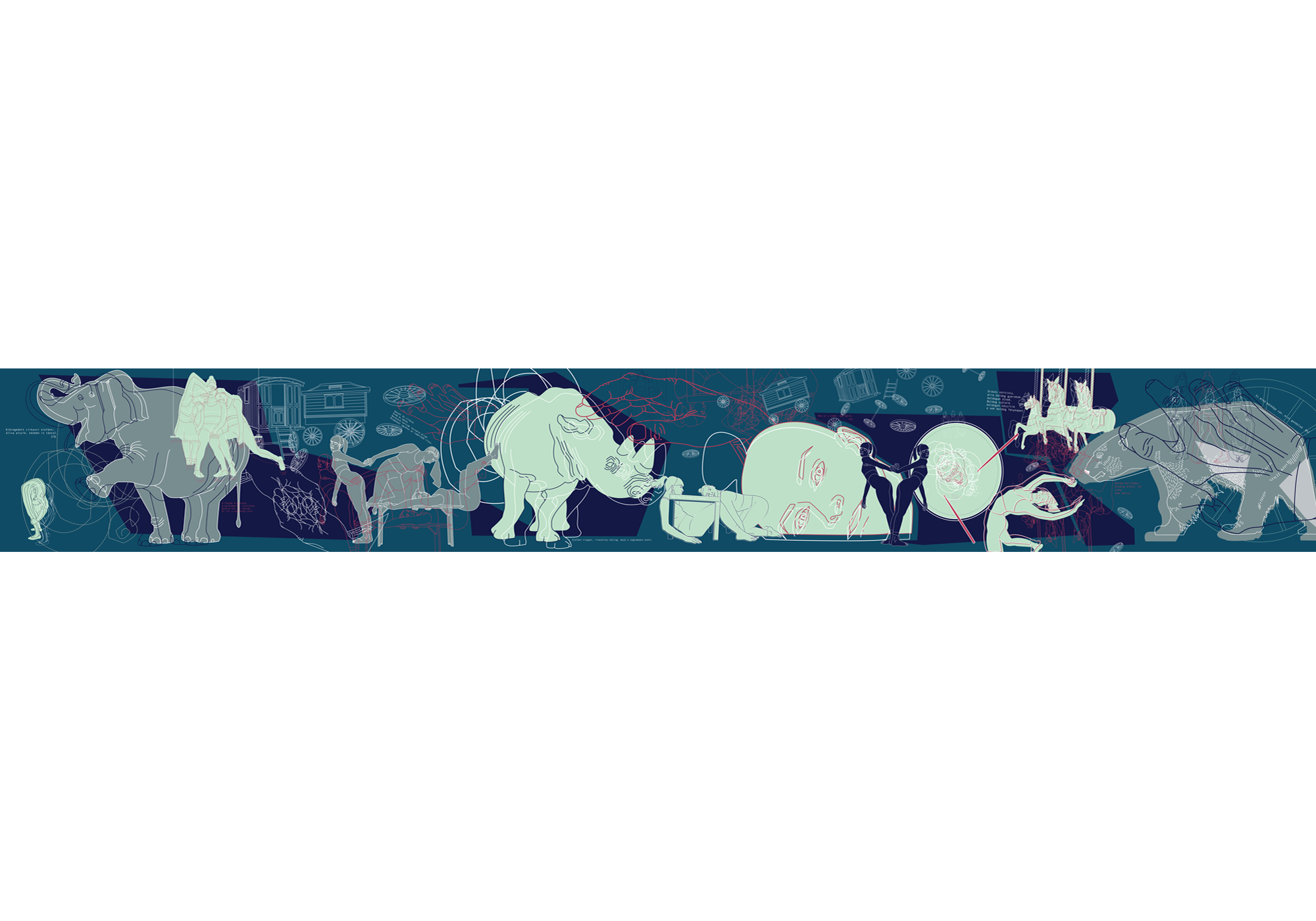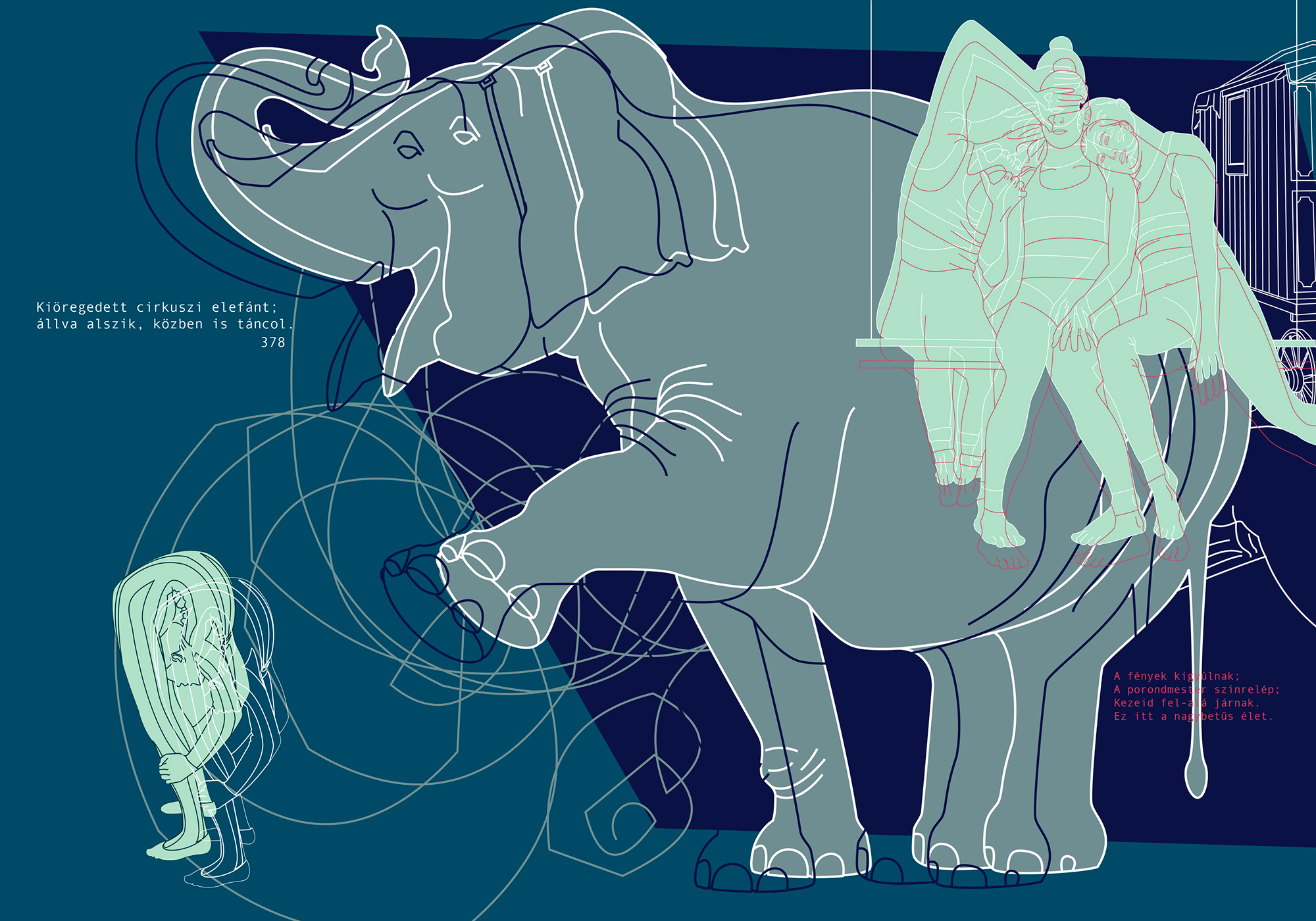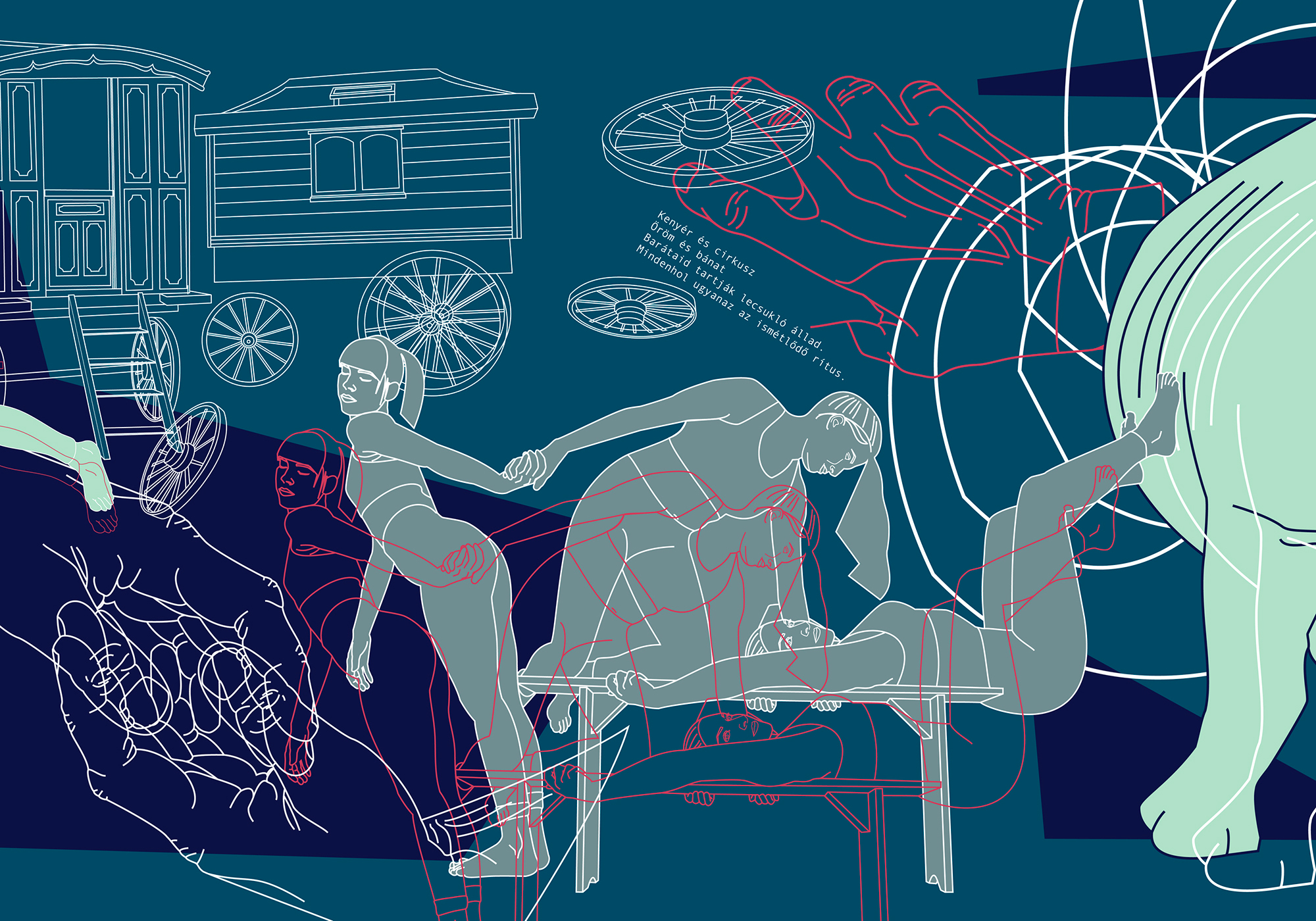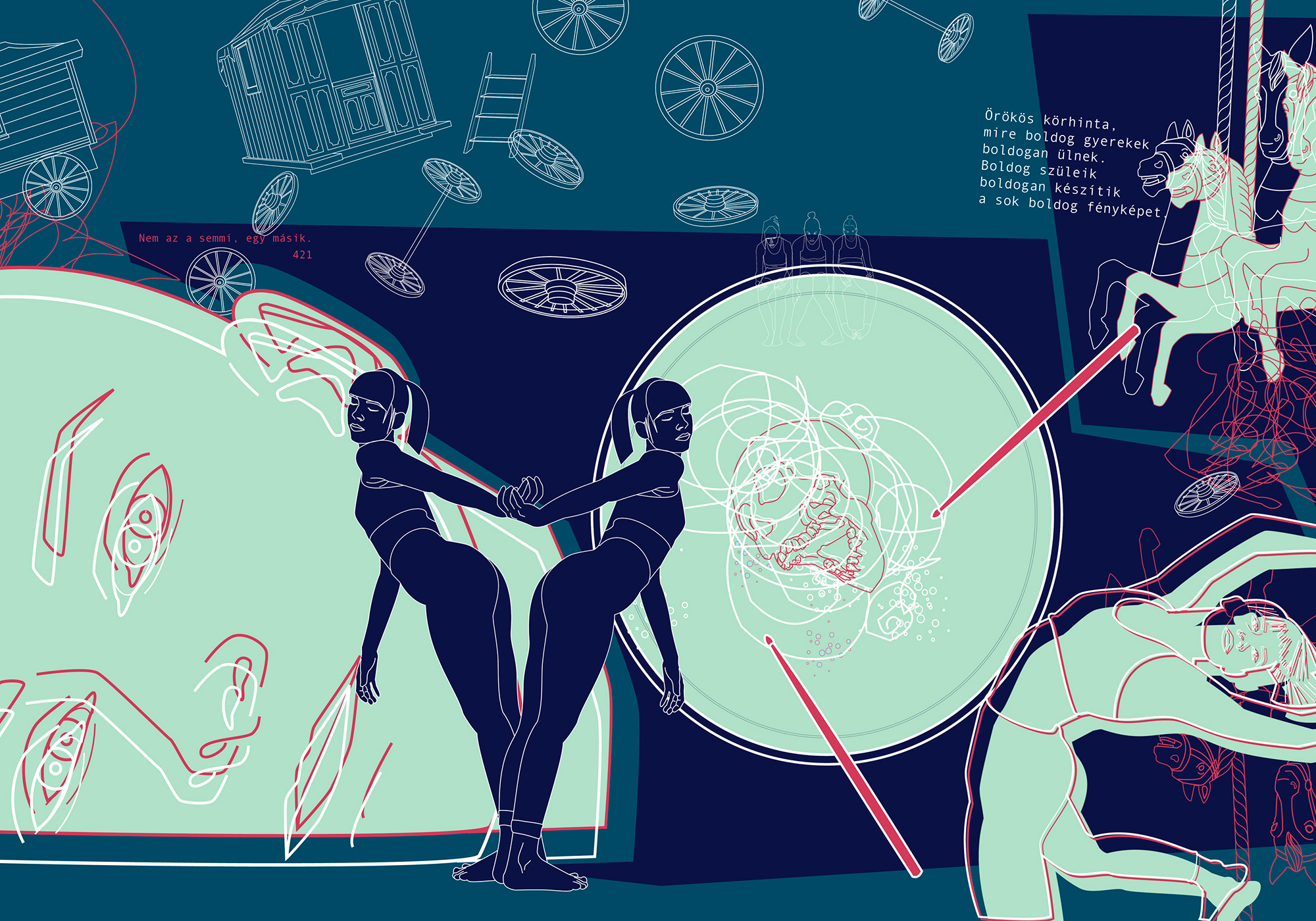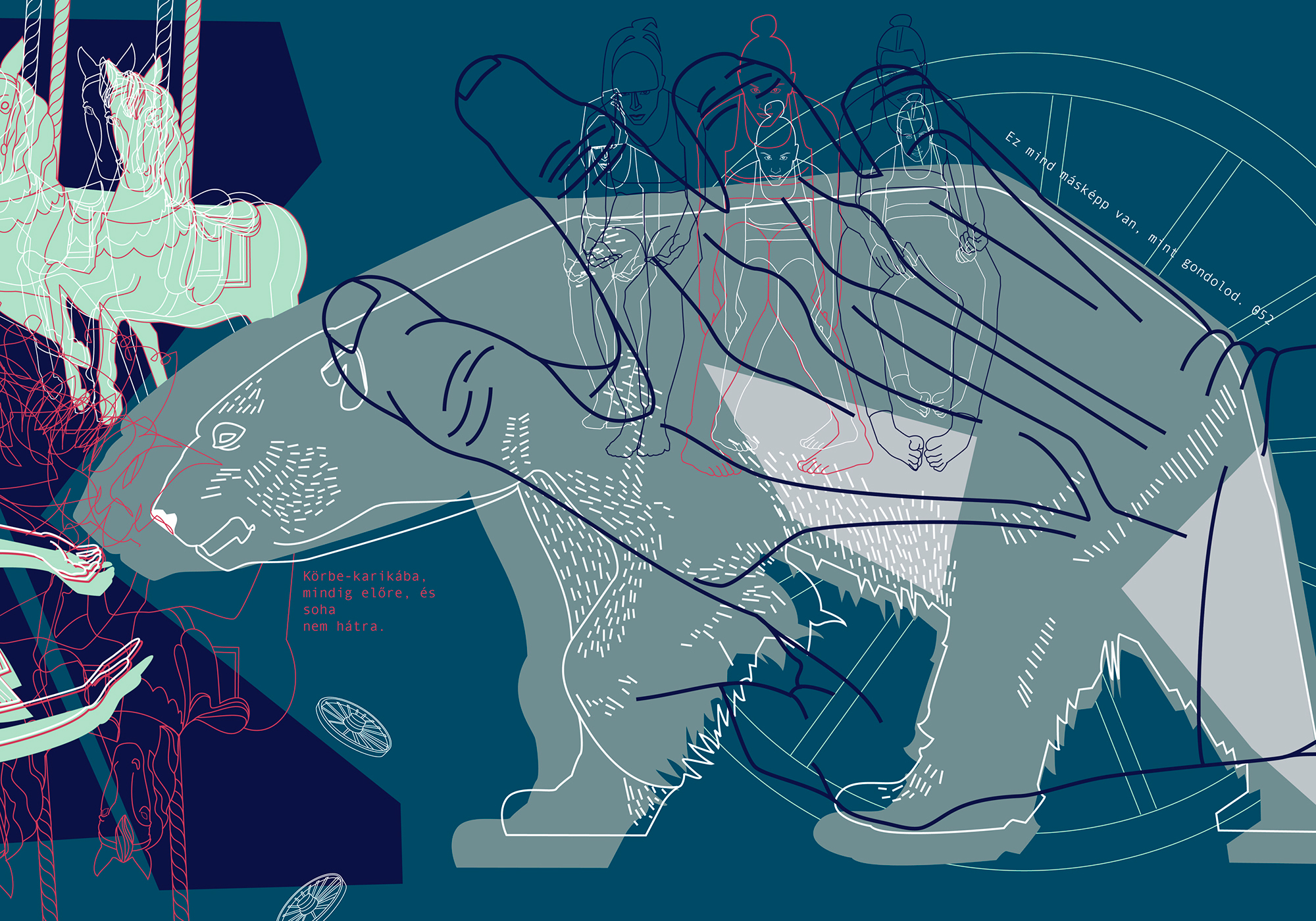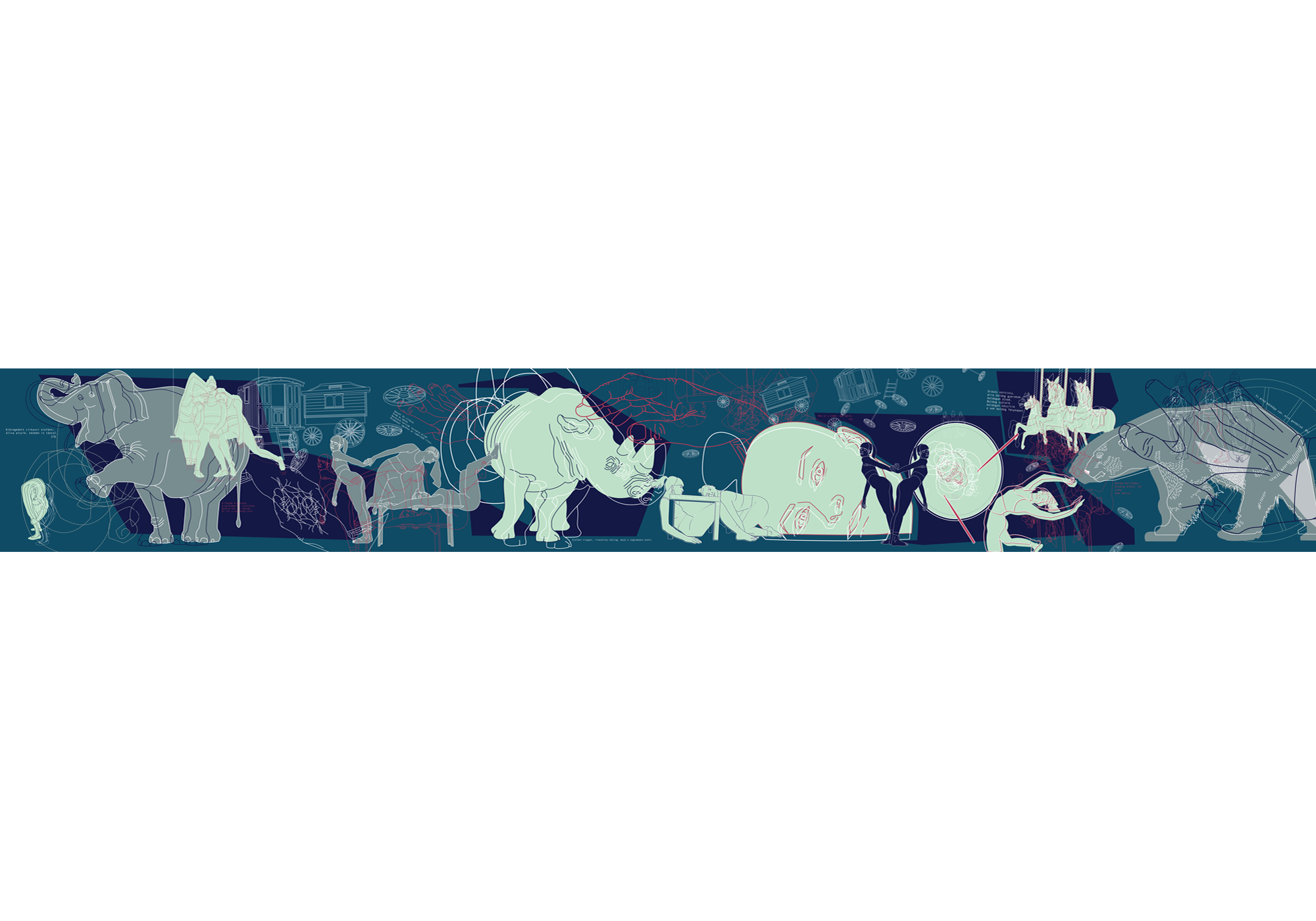 MET, Visual Presentation, BA Graduation Project
534 Circus' is a series of illustrations consisting of 5 pieces, which when added up, create a long frieze. The scene, for which I asked my friends from dancing to be the models, is a metaphor of life hidden behind the scenes of a circus. Franciska Szilágyi wrote a poem for my artwork, as well as, using quotes from Márton Simon's poetry book, 'Polaroidok'. In this book, we are able to read 533 thoughts. This is where the title for my artwork came from with mine being the 534th.
My illustration and, therefore, me were inspired by Etam Cru's 'Flying Circus' graphic design. This piece of art is also a series of illustrations, that introduces us to a circus march. The elaboration of the characters is extremely detailed and they expose us to a surreal and grotesque world with their slighty cartoon like shapings.
The style of '534 Circus' was mostly inspired by the work of Saul Bass, American graphic designer and Academy Award winning filmmaker. On his film posters he plays with simple shapes (Man With The Golden Arm; Precious; Star Wars), utilises all the shapes cut out from the backgorund, creating an airy, clean but also complex graphic.
___
MET, Képi ábrázolás, BA diploma projekt
Az "534 Cirkusz." egy öt darabból álló illusztráció sorozat, amely összerakva egy hosszú frízt alkot. A jelenetsor, melyhez saját táncos társaimat kértem fel modellnek, az élet metaforáját mutatja be egy cirkuszi jelenetsor mögé rejtve. Munkámhoz Szilágyi Franciska írt verset, valamint Simon Márton Polaroidok című verseskötetéből idézek. Simon Márton kötetében 533 bejegyzés van. Innen jött a diplomamunkám címe, az enyém az ötszáz harmincnegyedik.
Illusztrációm témáját az Etam Cru "Flying Circus" című grafikája inspirálta. Ez a mű is egy több darabból álló illusztráció sorozat, mely egy cirkuszi menetet mutat be. A figurák kidolgozása részletes, kissé meseszerű karaktereik szürreális és groteszk világot mutatnak be.
Az "534 Cirkusz." stílusvilágát leginkább Saul Bass, amerikai grafikus, tervező, filmrendező munkássága inspirálta. Filmplakátjain játékosan használja fel az egyszerű formákat (Man With The Golden Arm; Precious; Star Wars), kihasználja a háttérből kivágott formákat és ezzel megteremt egy levegős, tiszta és mégis összetett grafikát.
___
Program Partners
Design Workshop
Kreatív Magazin
Gestalten
Skillshare